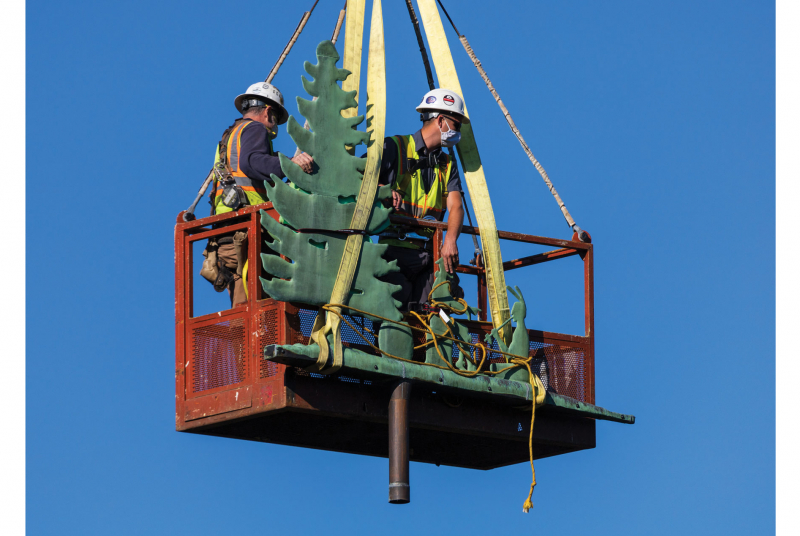 Winds of Change
Controversial weathervane comes down for good.
On June 25, after nearly a century atop the highest point on Dartmouth's campus, Baker Library's weathervane was taken down from its perch. In the weeks leading up to its removal, students and alumni joined a petition that criticized the weathervane's design for its "racist" and "stereotypical" portrayal of Native Americans.
The weathervane depicts Dartmouth's founder, Eleazer Wheelock, sitting on a stump above a feather-clad Native American man smoking a pipe. A round object—presumed to be a barrel of rum—rests behind Wheelock. 
"It was a lampoon of Native Americans that shouldn't have taken 92 years to come down," says David Vincelette '84, who created the online petition in late May demanding the weathervane's removal. It garnered nearly 900 signatures. 
The removal marks the College's latest step in addressing its historically troubled relationship with Indigenous peoples. Though chartered as an institution for educating "youth of the Indian tribes," Dartmouth did not graduate its first Native American student until 20 years after its founding. Two years ago Dartmouth relocated its controversial Hovey murals—which illustrate a legend of the College's creation involving visibly inebriated Native American men and half-nude Native American women. The weathervane, to art history professor Marlene Heck, was yet another "expansion of the myth" that Wheelock successfully educated and evangelized Native Americans. Meanwhile, Native American iconography still appears in other places on campus, such as chandeliers featuring "Indian heads" in the Paganucci Lounge in '53 Commons.
The process of taking down the weathervane was "pretty quick and easy," according to capital renewal project manager Patrick O'Hern. The College initially considered bringing in a helicopter for the job, but a crane proved to be a more efficient option. Around 7:30 on the morning of its removal, the crane lifted two workmen to the top of Baker Library, where they hooked the weathervane onto a basket and brought it to the ground.
The 600-pound copper relic is currently stored in an off-campus facility maintained by the Hood Museum of Art. Vice president of communications Justin Anderson has been placed in charge of a working group to produce designs for a new weathervane and determine other changes to designs around campus.