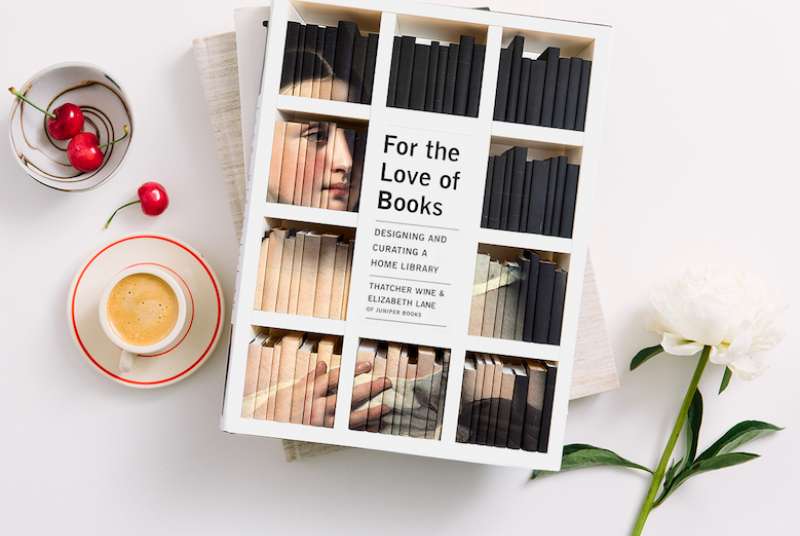 Courtesy of Juniper Books
Alumni Books
New titles from Dartmouth writers (November/December 2019)
Thatcher Wine '94
For the Love of Books: Designing and Curating a Home Library
(Gibbs Smith)
Thatcher Wine remembers the first book he fell in love with—The Neverending Story. When he returned it to his grade school library, he thought, "The book is not supposed to end, and here it is ending, and I have to give it back." 
As founder and CEO of Juniper Books, he's now earned a chapter in publishing history thanks to his controversial invention: the book mural, his patented technique that splashes one image across the spines of multiple books. The result is eye-popping—a 4-foot-tall Eiffel Tower splintered into dozens of covers gracing a design showroom, a wall-spanning Brooklyn Bridge stretching across hundreds of books for the shelves of a homesick ex-Manhattanite.
Juniper's murals are mostly for corporate clients—hotels, bars, country clubs—that want to dazzle visitors. During the past 18 years Juniper has sold more than a million books. They include classics by authors who range from Toni Morrison to Tolstoy. Each sports Wine's custom-made dust jacket. 
Half the company's revenue comes from custom curation of libraries. More than 3,000 well-heeled bibliophiles, including Oprah, Jessica Chastain, and Shonda Rhimes '91, have enlisted Wine to decorate their homes with books that read well and look good. While some jobs have run into the six-figures, the average cost is $2,500.
"Wine has tapped into a new frontier of growth: books you don't actually read," wrote New York magazine, a criticism Wine rejects. "There's no shame in having books for decoration while they're waiting for you to come back and read them," Wine insists.
As a history major, Wine hung out in the rare books room and in Sanborn Library. In a hint of things to come, for a studio art class, he took paintbrush to canvas to capture the library's Georgian-style bookshelves. After an early business went belly up, Wine returned to campus in 2001 for the Rassias language program. Later, he tagged along with a local rare-book dealer to country auctions. On a lark, he decided to sell old books until he could figure out his next step in life, a detour that led to Juniper.
He's more focused than ever on encouraging people to read. In 2017 he was diagnosed with non-Hodgkin's lymphoma, underwent chemotherapy, and is now in remission. "I prescribe reading as self-care to other people," says Wine. "I rely on it to slow down to refocus my mind. We are so distracted by our devices there are few places of refuge where we can do one thing at a time, and books are one of them."  —George M. Spencer
Click here to see photos of bookshelves curated by Wine. 
Norman Fine '55, Th'56
Blind Bombing
(Potomac Books)
The resonant cavity magnetron—an early radar technology—guided bombers to targets over cloudy Europe during WW II. Fine, a retired electronics engineer, calls it the war's single most influential invention. He tells the little-known story of its creation at MIT's Rad Lab and how B-17 navigators, including his uncle, used the super-secret device.
Michael Shnayerson '76
Boom
(PublicAffairs Books
A work of art may soon sell for $1 billion, suggests Vanity Fair contributing editor Shnayerson. His gossipy history of the contemporary art market takes readers from its threadbare 1940s origins, when a gallery owner was lucky to get $150 for a Pollock action painting, to 2017, when a Saudi emir dropped $450 million on a da Vinci of dubious provenance.
Phyllis L. Fagell '95
Middle School Matters
(De Capo Lifelong Books)
"Make mistakes, model self-compassion, and grow alongside your child" is some of the advice offered by Fagell, a psychotherapist and school counselor. Her book offers the parents of tweenagers 10 key skills for navigating this awkward time of transition. "Your child wants and needs you now more than ever—even when they say they don't," she writes. 
Anthony Ryan Hatch '98
Silent Cells
(University of Minnesota Press)
Prisons and other institutions have increasingly turned to psychotropic drugs—antidepressants, tranquilizers, and antipsychotics—to cut costs and control undesirable behaviors. Hatch, a Wesleyan professor, fears the vast and growing use of such "chemical straightjackets" infringes on the civil rights of prison inmates, soldiers, nursing home residents, and immigrants in detention.