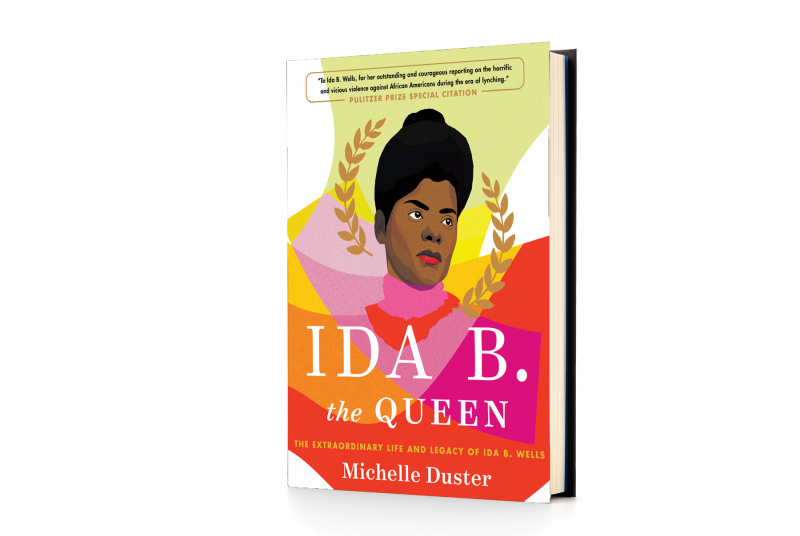 Alumni Books
New titles from Dartmouth writers (May/June 2021)
Michelle Duster '85
Icon in the Family
Michelle Duster's great-grandmother, Ida B. Wells (1862-1931), crusaded for civil rights and women's suffrage, cofounded the NAACP, and last year was awarded a Pulitzer Prize for her "outstanding and courageous reporting" on lynching. DAM spoke to Duster about her new biography. 
What prompted you to write this now? 
I felt Ida's name was starting to be forgotten. A Chicago housing community named after her was dismantled. With the 2020 centennial of the 19th Amendment, there was more focus on the contributions Black women made to the suffrage movement. And I've been working on a monument to honor my great-grandmother. I realized how few monuments there are to women in the country. I felt people needed to know more about her and what she did. 
What did you know about her when you were growing up?
My grandmother, Ida's youngest daughter, would tell us about her mother's work, but she also told me, "You need to have your own identity and accomplishments." I didn't feel she put any pressure on us to be like Ida. It was more like, be your best self. She was kind of vague when we were little because her mother faced a lot of violence and danger. My grandmother shielded us from that. "Oh, you know, your great-grandmother was a journalist," she'd say, "and she fought for justice and equality." 
Your book blends historical accounts with your personal story and reflections. How did you decide on that approach?
I didn't start off that way. But to distinguish it from other biographies about her, I chose to add more personal elements. I also wanted to put Ida's story into an historical context of the whole 400-year African American experience. She lived from slavery to the Great Depression. I wanted to help people understand that some of the work she was doing continues. My hope is that people will see a part of themselves in her and see how what is happening today is connected to the past. 
What can activists take away from the example Wells set?
She spoke truth to power through journalism and countered false narratives, which is still relevant today. Also, she advocated for boycotts of businesses that did not treat African Americans as full citizens—for people to use their economic power to create change.
John Cavanagh '77
The Water Defenders: How Ordinary People Saved a Country from Corporate Greed
Beacon Press
Drawing from more than a decade of research and personal interactions, Cavanagh and coauthor Robin Broad chronicle the unlikely true story of a community in El Salvador that successfully thwarted a global mining corporation from poisoning the nation's main water supply. They follow the tales of local activists and the under-the-table deals of Pacific Rim mining company's executives.
Jeffrey Immelt '78
Hot Seat: What I Learned Leading a Great American Company
Avid Reader Press/Simon & Schuster
The former CEO of General Electric reflects on his time at the helm of the industry giant, which he stepped into less than a week before the 9/11 terrorist attacks and guided through the 2008 financial crisis. Immelt's memoir provides a candid peek into the ups and downs of his tenure and stands as a guide for leadership as companies continue to navigate uncharted economic waters.
Michael Lowenthal '90
Sex with Strangers
University of Wisconsin Press
Characters fall in and out of love, tiptoe through precarious relationships, and grapple with loneliness in this collection of short stories on modern romance. From a young man trying to salvage a long-distance relationship to a newly ordained priest longing for an ex-lover, Lowenthal's stories explore how subconscious desires can make strangers of loved ones and of our own minds.
Jake Tapper '91
The Devil May Dance
Little, Brown & Co.
A sequel to The New York Times bestseller The Hellfire Club (2018), the CNN anchor's latest novel follows 1960s political pundits Charlie and Margaret Marder as they seek to unravel Hollywood's seedy underbelly. Their quest pits them against crooner (and rumored mobster) Frank Sinatra, the Church of Scientology, and a shadowy force that threatens the security of the nation as a whole. 
Additional books that were not included in our print edition:
Presbyterian pastor Larry Selig '57 reflects on personal experience and biblical studies to offer a guide to more thoughtful and intentional prayer in 5 Prayers God Loves to Answer: The Amazing Promise Jesus Makes (Redemption Press). 
Clinical psychologist Frederic C. Craigie Jr. '72 draws words of affirmation from theologians, artists, activists, and more in his guide to spiritual well-being, Weekly Soul: Fifty-two Meditations on Meaningful, Joyful and Peaceful Living (MSI Press). 
In Holy Rollers, a debut novel by James Wallace '73, professional golfer Max Azure finds himself in hot pursuit of a murderer after a string of local clergymen and golf course regulars die under suspicious circumstances (Mascot Publishing).
In his fast-paced biography, Bugsy Siegel: The Dark Side of the American Dream, Vanity Fair contributing editor Michael Shnayerson '76 follows the notorious gangster from his impoverished Ukrainian-Jewish immigrant roots on the Lower East Side of New York City to the glittering Las Vegas strip (Yale University Press).
Tracking the path of popular herbal supplements from seed to medicine cabinet, anthropologist Ann Armbrecht '84 unravels the ethics of the herbal medicine industry in The Business of Botanicals: Exploring the Healing Promise of Plant Medicines in a Global Industry (Chelsea Green Publishing).
Government lecturer Charles J. Wheelan '88 documents the ups and downs of his family's nine-month journey across six continents—while grappling with questions of local politics and global economics—in We Came, We Saw, We Left: A Family Gap Year (Norton). 
Based on the life of pioneering feminist and abolitionist Lucy Stone, Katherine A. Sherbrooke '89 tells the story of a woman fighting for equality and personal fulfillment amid rigid societal constraints in her novel Leaving Coy's Hill (Pegasus Books).
Danielle Simone Brand (LeMond) '00 celebrates cannabis as a key to a less stressful motherhood in Weed Mom: The Canna-Curious Woman's Guide to Healthier Relaxation, Happier Parenting, and Chilling TF Out (Ulysses Press).
Commercial Observer editor-in-chief Max Gross '00 makes an award-winning debut as a novelist in The Lost Shtetl, the tale of a secluded Jewish village that had managed to evade the currents of history and technology, from the internet to indoor plumbing—until the mysterious disappearance of a recent divorcée sends it plummeting into the 21st century (HarperCollins).   
Historians, anthropologists, and political scientists build off the work of a Dartmouth anthropology professor and pioneer in modern Muslim studies in Knowledge, Authority and Change in Islamic Societies: Studies in Honor of Dale F. Eickelman, coedited by Allen James Fromherz '02, professor of Mediterranean and Middle East history at Georgia State University (Brill).
Andrew Verstein '05, a professor at UCLA School of Law, coauthors a casebook for law students to practice advising hypothetical clients in Business Associations: A Systems Approach (Wolters Kluwer). 
Drawing from new studies in psychology and sociology, travel journalist Larry Olmsted, Adv '06, highlights the perks of being a sports fan for mental well-being and as a force for good in society in Fans: How Watching Sports Makes Us Happier, Healthier, and More Understanding (Algonquin Books). 
Michelin Guide food writer and professional chef Marguerite Imbert '11 invites readers to doodle, journal, and color on the pages of Not A Cookbook: A Guided 8-Week Journey—a collection of daily cooking challenges that encourage seasoned chefs and budding cooks alike to reflect on their identity in the kitchen (Primedia eLaunch).