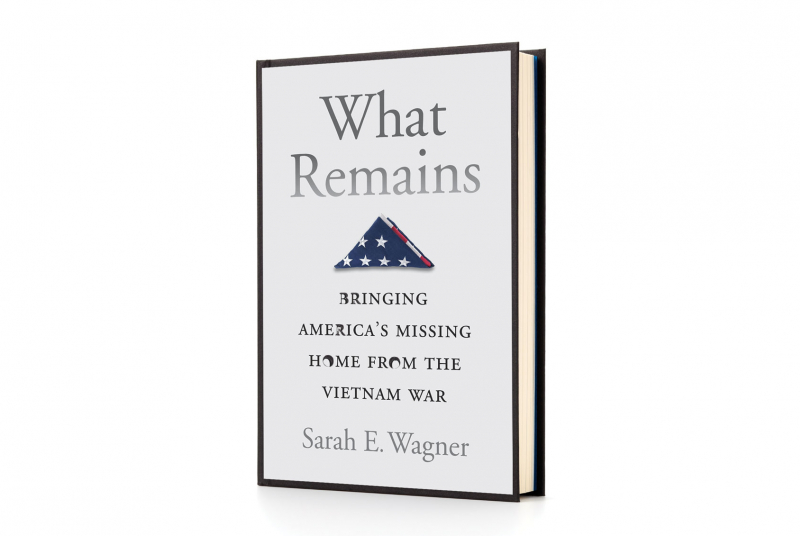 Alumni Books
New titles from Dartmouth writers (March/April 2020)
Sarah E. Wagner '94
The Forensics of War
With her third book, Wagner examines the efforts to locate, identify, and return the remains of U.S. military personnel who went missing during the Vietnam War. "Over the past decade, I have traced the arc of Vietnam War MIA accounting along the line of science and its social import, paying particular attention to how its advances have influenced, indeed changed, the way the United States as a nation remembers and honors its fallen service members," writes Wagner, an associate professor of anthropology at George Washington University.
Wagner, a Guggenheim fellowship receipient in 2017, interviews veterans, forensic scientists, policymakers, current members of the military, and the families of the missing. She notes that new advances in forensic science have provided powerful new tools to identify remains, raising the hopes of families with missing loved ones. She spends 28 days with a recovery team as it searches the jungle for the remains of five Vietnam soldiers lost in a helicopter during the war. One chapter details the meticulous fieldwork of sifting through fragmented and partial remains, "bits of bone and teeth that may barely fill your palm….There is no evidentiary silver bullet, though DNA and dental analysis often provide the data that tip the scales of probability and exclusion," Wagner writes.
She traces America's unique tradition of repatriating soldiers' remains back to the Civil War, when the carnage of 600,000 bodies forced new ways of thinking about death—and new forensic tools to solve the mysteries of the vast number of unidentified corpses on battlefields. During World War II, 19 percent of U.S. fatalities were unidentified, in the Korean War, 22 percent. During the Vietnam War, less than 4 percent were unaccounted for, yet the United States spends roughly $130 million each year on repatriation efforts, an amount unequalled by any other country.
The MIA designation creates an unusual uncertainty. "How does one remember a person who is neither definitively dead nor positively alive?" asks Wagner. "I have come to appreciate science as another 'language of memory'—it too frames how we see and understand war's human tolls and shapes what recovery efforts and identifications mean to families of the missing and veterans, most of them far removed from the inner circles of Beltway policymaking." —Sean Plottner
Richard Kenney '70
Terminator: Poems, 2008-2018
(Knopf)
Kenney, an English professor at the University of Washington, focuses his fifth book on poems that range from discussions of boundaries to questions about neckties. Sometimes humorous and sometimes sad, they provoke thoughts about the past, the future, and everything in between.
Doug White '75
Wounded Charity: Lessons from the Wounded Warrior Project Crisis
(Paragon House)
White, former director of Columbia University's master of science in fundraising management program, discusses the criticisms surrounding the Wounded Warrior Project. He investigates the failure of the charity's leadership but also defends its beneficial aspects. Demonstrating the ways all charities can learn from the incident, he states that they "need to provide better evidence than they do now that the world is a better place because of their work."
Stephen J. Farnsworth '83
Late Night with Trump: Political Humor and the American Presidency
(Routledge)
What would TV talk show hosts do without politicians? Farnsworth, a professor of political science at the University of Mary Washington, analyzes tens of thousands of late-night jokes since 1992 and offers analysis of "the golden age of political comedy." Political humor was somewhat gentle and less frequent, he explains, until Bill Clinton came along. And Trump? Of some 6,337 jokes told by TV hosts in the first year of his presidency, more than 49 percent targeted him. 
Belinda H.Y. Chiu '98
The Mindful College Applicant: Cultivating Emotional Intelligence for the Admissions Process
(Rowman & Littlefield Publishers)
A former college admissions officer combines her experience with research on emotional intelligence in this guide for prospective students. "I was compelled to offer something to help shift the current stress young people go through each year to 'get in,' " Chiu tells DAM. "Given the recent national news about the process, I feel it is even more important for young people to know that there is a healthier way.
Additional books that were not listed in our print edition:
Dave Halloran '53 contemplates eternity with a combination of text, photographs, and videos in his ebook, An Eternity Soaring Through the Universe (self-published). 
Roger Hull '64, a former president of Beloit and Union colleges, offers advice on effective and organized management in The Leader's Manual: Leaders on Leadership. He also analyzes the issues facing voters in the upcoming election, as well as Democratic campaign messaging, in 2020 Vision: Dump Trump (self-published).
Exercise scientist and distance-running coach Roy Benson '67 provides a guide to getting reliable data from heart rate monitors as coauthor of Heart Rate Training: Customize Your Training Based on Individual Data and Goals (Human Kinetics).
Retired U.S. Navy Capt. John Morse '70, with the second installment in his thriller series, follows ex-Navy SEAL Dan Steele as he works to bring down a ruthless Russian general on the Red Sea in Chokepoint (Idleknot Press).
Arthur Hittner '71 follows an unconventional art sleuth as he tracks down the history of a cache of paintings found in a storage locker in his third novel, The Caroline Paintings (self-published). 
Rob Dinsmoor '80, who has written scripts for MTV and Nickelodeon, delivers a compilation of his humorous short stories in Toxic Cookout (Big Table Publishing).
Retired TV executive and American media historian Tim Brooks '88 examines the history of the minstrel show and its role in popular culture in The Blackface Minstrel Show in Mass Media: 20th Century Performances on Radio, Records, Film and Television (McFarland).
Rutgers University English professor Tyler Hoffman '88, author of Robert Frost and the Politics of Poetry, offers a critical look at the way two poets grappled with the casualties, complications, and anxieties of war in "This Mighty Convulsion": Whitman and Melville Write the Civil War (University of Iowa Press).
Otolaryngologist and reconstructive facial plastic surgeon Doc Zavod '94 draws on his experience practicing medicine—and dreading shots as a child—in his children's book, Dr. Ridiculopickulopot and the Shot (self-published).
Japanese literary translator Allison Markin Powell '95 recently translated three books, including The Art of Simple Living: 100 Daily Practices from a Japanese Zen Monk for a Lifetime of Calm and Joy (Penguin Books) by Shunmyo Masuno, which gives tips for mental de-cluttering; a story of a man told by women who have loved him, The Ten Loves of Nishino (Europa Editions) by Hiromi Kawakami; and Parade: A Folktale (Soft Skull Press) by Hiromi Kawakami, featuring a pair of legendary creatures called tengu.
InspireCorps cofounder Allison Holzer '00 gives strategies for sustainable inspiration in the modern workplace in Dare to Inspire: Sustain the Fire of Inspiration in Work and Life (Da Capo Lifelong Books).
Pennsylvania State University philosophy and classics professor Christopher Moore '02 explores the first 200 years of the Ancient Greek term philosophos and philosophy's early practitioners in Calling Philosophers Names: On the Origin of a Discipline (Princeton University Press).
National Book Award nominee Margaret Wilkerson Sexton '04 tells a story of generational legacies and relationships between powerful and marginalized women in her second novel, a New York Times Book Review "Notable Book of the Year," The Revisioners (Counterpoint).
Echo Brown '06 delivers a fearless coming-of-age story that's part memoir, part magical realism—and "a graphic look at the magical black girls who are often forgotten or fetishized, according to Kirkus Reviews—in Black Girl Unlimited: The Remarkable Story of a Teenage Wizard (Henry Holt and Co.) 
Towson University history professor Omar Foda '07, who holds a Ph.D. in Near Eastern languages and civilizations from UPenn, examines the culture surrounding alcohol in Egypt in Egypt's Beer: Stella, Identity, and the Modern State(University of Texas Press).
Katherine Clayton '18, with Dartmouth government professors John Carey and Yusaku Horiuchi, explains research that argues that although affirmative action remains controversial in the abstract, there is broad support for prioritizing diversity in practice by students and faculty in Campus Diversity: The Hidden Consensus (Cambridge University Press).
Alexandra Stasior '20 details the experiences of 25 students who successfully applied to Dartmouth and chose to attend it as coauthor of Getting Into Dartmouth: Successful Applicants' Essays, Resumes, and Interviews (self-published).