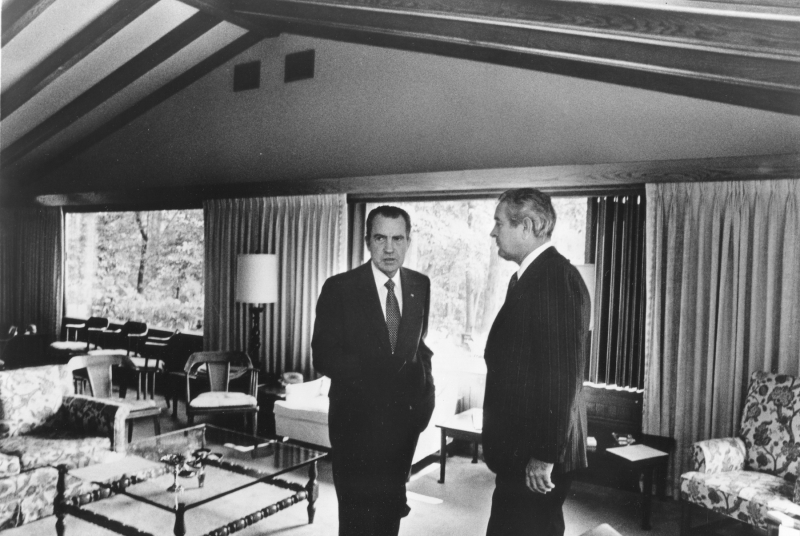 Alumni Books
New titles from Dartmouth writers (July/August 2021)
JEFFREY E. GARTEN '68
Three Days at Camp David: How a Secret Meeting in 1971 Transformed the Global Economy
(HarperCollins)
The belief that history hinges on small events—like the missing nail that dooms the horseshoe, then the horse, and then the kingdom in the classic nursery rhyme—is the guiding force behind Three Days at Camp David, which examines how a single weekend during the Nixon presidency sent shockwaves through the global economy that reverberate today.
Gold was the reason the president and his advisors clandestinely huddled at the presidential retreat in Maryland from August 13 to 15, 1971. Since World War II, the precious metal backed every U.S. dollar, the standard currency for international trade. But gold reserves were running low, Garten writes— hardly enough to cover the $40 billion held by foreign banks. At the same time, unemployment and inflation were rising, stoking fears of an America in decline, an unflattering backdrop for Nixon's re-election campaign. 
At the meetings in the casual, wooded setting where attendees could offer views based on "what they sincerely believed," Garten writes, Nixon's inner circle decided to break with decades of monetary policy and sever the gold link for good. It was the first major turn inward for the United States, a go-it-alone break that angered allies and challenged the world order. It would hardly be the last word in the isolationism vs. globalism debate. 
Making use of interviews, diary entries, and even a tour of Nixon's helicopter, Garten's narrative is thick with fly-on-the-wall details. "The chairs were arranged in a large circle for the first meeting, which began at 3:15 p.m.," he writes. "Nixon was dressed in a pale blue sport jacket, while the others wore either sport coats or suits; all wore ties." Jumping between jocular dinner parties, late-night phone calls, and poolside chats, the book also animates wonky material with a touch of suspense. Garten fleshes out the competing priorities of the weekend's guests—including Office of Management and Budget director George Shultz, Treasury Under Secretary Paul Volcker, and speechwriter William Safire—and Nixon, who at times seems more motivated by the shock value of his monetary maneuvering than anything else. 
"I conceived of the book early in the Trump era," says Garten, who has been a dean of Yale's business school, a managing director of the financial firm Blackstone, and a commerce undersecretary in the Clinton administration. "But the change of administration, and the opportunities and challenges it brought, was an added bonus." —C.J. Hughes '92
WILLIAM CARPENTER '62 
Silence
(Islandport Press)
This intensely edgy novel tells the story of Nick, a young Iraq War vet who returns home to Maine after surviving a brutal IED attack that killed his whole unit and left him permanently deaf. The author—a poet and a founding faculty member at the College of the Atlantic, where he taught creative writing for 48 years—juxtaposes Nick's violent flashbacks and inner voices with his youthful memories and determination to preserve an island sanctuary threatened by development. 
ANNETTE GORDON-REED '81
On Juneteenth
(Liveright Publishing)
In a series of essays, the Pulitzer Prize-winning historian creates a personal and affectionate memoir of Juneteenth celebrations and growing up in Texas, where the topic of slavery and its role in the state was rarely mentioned in school. She weaves that tangled history with an analysis of Texas' belated declaration of the end of slavery on June 19, 1865, more than two years after President Lincoln's Emancipation Proclamation.   
SUSAN SCHOENBERGER '84
The Liability of Love
(She Writes Press)
This author's third novel centers on a young woman who is assaulted during her first year in college and delves into the consequences of her efforts to subsequently conceal the experience. Many of the story's memorable characters harbor painful secrets, from shame about an unusual medical condition to credit wrongly taken for an important gift to unrequited love. 
LORI McMULLEN '00
Among the Beautiful Beasts
(She Writes Press)
Marjory Stoneman Douglas' passion for Florida's wildlife and wild places made her the acclaimed champion of preserving the Everglades. This biographical fiction focuses on her early years—a bewildering childhood in Massachusetts with a mentally unstable mother, a disastrous marriage to a con man, and a new start with help from her father, the founder and editor of the Miami Herald.
Additional books that were not included in our print edition:
Lawyer and historian George W. Liebmann '60 examines the shortcomings of the Clinton, Bush, Obama, and Trump presidencies in Vox Clamantis In Deserto: An Iconoclast Looks At Four Failed Administrations, a collection of 110 op-eds written during the past 25 years (self-published).
Tasmania-based poet Young Dawkins '72, Adv'87, harks back to the Beat era in Slow Walk Home, a collection of poems meditating on the search for fulfillment and belonging (Red Squirrel Press).
In The '60s Diary, the ninth novel by lawyer and writer Howard Reiss '73, a woman relives her adolescence, from her first love to Woodstock, after rediscovering a childhood diary she began on New Year's Day of 1960 (Krance Publishing).
Head of talent development at CVS Health Ted Fleming '83 shares insider knowledge on finding the right career path, overcoming barriers to success, and navigating the ins and outs of climbing the corporate ladder in Develop: 7 Practical Tools to Take Charge of Your Career (BenBella Books).
Bethany Rogers '87, associate professor of educational studies at the CUNY College of Staten Island, draws from three decades of teacher education and reform to tackle the perennial issue of attracting, preparing, and retaining high-quality teachers as coauthor of Schooling Teachers: Teach For America and the Future of Teacher Education (Teachers College Press).
Diné and Ihanktonwan Dakota writer and activist Jacqueline Keeler '91 reflects on two episodes in 2016—the Standing Rock Sioux Tribe's protest against the Dakota Access Pipeline and the armed takeover of Oregon's Malheur Wildlife Refuge led by the Bundy family—and compares the competing visions of America that prompted them in Standoff: Standing Rock, the Bundy Movement, and the American Story of Sacred Lands (Torrey House Press).
Former N.Y.C. councilmember and lifelong Stuyvesant Town resident Dan Garodnick '94 recounts his neighbors' nine-year battle for affordable housing—which pitted them against mammoth real estate interests—in Saving Stuyvesant Town: How One Community Defeated the Worst Real Estate Deal in History (Cornell University Press).
The Box: An Invitation to Freedom from Anxiety, a memoir by lawyer Wendy Tamis Robbins '94, offers an intimate glimpse into a harrowing 40-year battle with anxiety disorders and the journey to break free from them (Made for Success Publishing).
In his newest thriller, Unthinkable, Brad Parks '96 tells the tale of Nate Lovejoy, a self-proclaimed nobody who suddenly finds himself entangled in dealings with a secret society that could spell life or death for a billion people—and only he has the power to save them (Thomas & Mercer).
Writer and environmental health advocate Alexandra Zissu '96 encourages young readers to get involved in protecting the environment through the stories of real-life activists in Earth Squad: 50 People Who Are Saving the Planet (Running Press Kids).
Sugar the cat is thrown for a loop when the humans in her house go into quarantine because of Covid-19, an abrupt change of pace she resents—until she discovers her love of learning through a Zoom class—in The Little Cat That Zoomed, a children's book cowritten by actor and screenwriter Eyal Podell '97 (self-published).
Drawing from case studies of community colleges across the country, education research and policy specialist Carrie B. Kisker '99 outlines a model for higher education institutions to reduce their dependence on state allocations in Creating Entrepreneurial Community Colleges: A Design Thinking Approach (Harvard Education Press).
Jen, a little girl who loves to write, learns a valuable lesson about staying true to herself in Find a Lost Smile, the debut children's book by baseball player-turned-writer Jeff Dutremble '01 (self-published).
In the wake of a 2013 Vermont law legalizing medical aid in dying, Mara Buchbinder '02, a medical anthropologist and associate professor at the University of North Carolina's department of social medicine, set out to chronicle the stories of patients, caregivers, activists, and more—a two-year study documented in Scripting Death: Stories of Assisted Dying in America (University of California Press Series in Public Anthropology).
Nova Southeastern University psychology professor Leanne Boucher Gill, Adv'03, guides young readers on an illustrated tour of the brain and answers common questions about human behavior in her children's books, Lobe Your Brain: What Matters About Your Grey Matter and Big Brain Book: How It Works and All Its Quirks (Magination Press).
In Convulsed States: Earthquakes, Prophecy, and the Remaking of Early America, Hendrix College history professor Jonathan T. Hancock '06 dissects how spiritual interpretations of the natural world after the 1811-12 New Madrid earthquakes shaped early 19th-century political and military conflicts as well as treatment of Native Americans (The University of North Carolina Press).
Meredith Russo Mathias '08, writing as Meredith Westgate, makes her debut as a novelist with The Shimmering State, which follows two patients seeking the truth after mysteriously landing in a treatment center for abuse of an experimental memory drug (Atria/Simon & Schuster).
Cassandra Hartt '14 makes her debut in young adult fiction with The Sea is Salt and So Am I, the story of three teenagers who uncover painful secrets and forge new bonds as they grapple with the ever-looming threat of a climate disaster destroying their small Maine hometown (Roaring Brook Press).