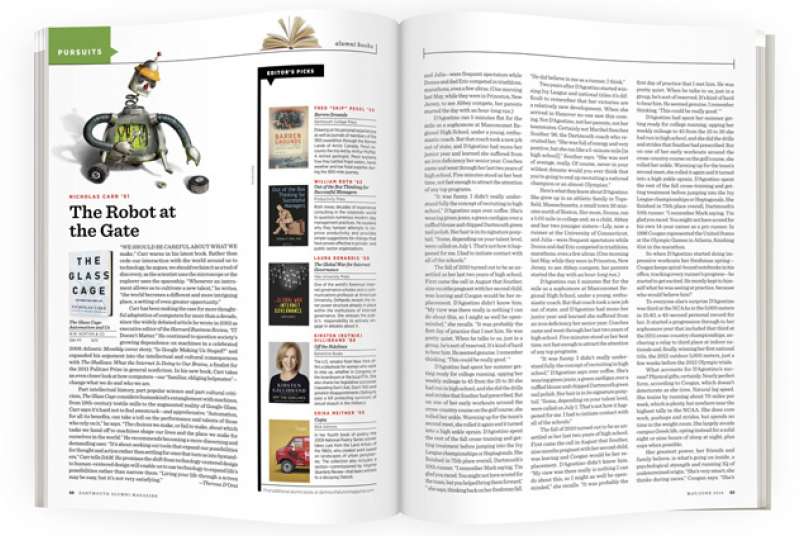 Alumni Books
New titles from Dartmouth writers (November-December 2014)
Nicholas Carr '81
The Glass Cage: Automation and Us
W.W. Norton & Co.
"We should be careful about what we make," Carr warns in his latest book. Rather than cede our interaction with the world around us to technology, he argues, we should reclaim it as a tool of discovery, as the scientist uses the microscope or the explorer uses the spaceship. "Whenever an instrument allows us to cultivate a new talent," he writes, "the world becomes a different and more intriguing place, a setting of even greater opportunity."
Carr has been making the case for more thoughtful adaptation of computers for more than a decade, since the widely debated article he wrote in 2003 as executive editor of the Harvard Business Review, "IT Doesn't Matter." He continued to question society's growing dependence on machines in a celebrated 2008 Atlantic Monthly cover story, "Is Google Making Us Stupid?" and expanded his argument into the intellectual and cultural consequences with The Shallows: What the Internet Is Doing to Our Brains, a finalist for the 2011 Pulitzer Prize in general nonfiction. In his new book, Carr takes an even closer look at how computers—our "familiar, obliging helpmates"—change what we do and who we are.
Part intellectual history, part popular science and part cultural criticism, The Glass Cage considers humankind's entanglement with machines, from 19th-century textile mills to the augmented reality of Google Glass. Carr says it's hard not to feel awestruck—and apprehensive. "Automation, for all its benefits, can take a toll on the performance and talents of those who rely on it," he says. "The choices we make, or fail to make, about which tasks we hand off to machines shape our lives and the place we make for ourselves in the world." He recommends becoming a more discerning and demanding user. "It's about seeking out tools that expand our possibilities for thought and action rather than settling for ones that turn us into bystanders," Carr tells DAM. He promises the shift from technology-centered design to human-centered design will enable us to use technology to expand life's possibilities rather than narrow them: "Living your life through a screen may be easy, but it's not very satisfying."   —Theresa D'Orsi
Fred "Skip" Pessl '55
Barren Grounds
Dartmouth College Press
Drawing on his personal experiences as well as journals of members of the 1955 expedition through the Barren Lands of Arctic Canada, Pessl recounts the trip led by Arthur Moffat. A retired geologist, Pessl explains how they battled frigid waters, harsh weather and low food supplies during the 900-mile journey.
William Roth '62
Out of the Box Thinking for Successful Managers
Productivity Press
Roth mines decades of experience consulting in the corporate world to question numerous modern-day management practices. He explains why they hamper attempts to improve productivity and provides simple suggestions for change that have proven effective in private- and public-sector organizations.
Laura DeNardis '88
The Global War for Internet Governance
Yale University Press
One of the world's foremost Internet governance scholars and a communications professor at American University, DeNardis reveals the inner power structure already in place within the institutions of Internet governance. She stresses the public's  responsibility to actively engage in debates about it.
Kirsten (Rutnik) Gillibrand '88
Off the Sidelines
Ballantine Books
The U.S. senator from New York offers a playbook for women who want to step up, whether in Congress or the boardroom or the local PTA. She also shares her legislative successes (repealing Don't Ask, Don't Tell) and greatest disappointments (failing to pass a bill protecting survivors of sexual assault in the military).
Erika Meitner '96
Copia
BOA Editions
In her fourth book of poetry the 2009 National Poetry Series winner takes cues from the Land Artists of the 1960s, who created work based on landscapes of urban peripheries. The collection also includes a section—commissioned by Virginia Quarterly Review—that bears witness to a decaying Detroit.