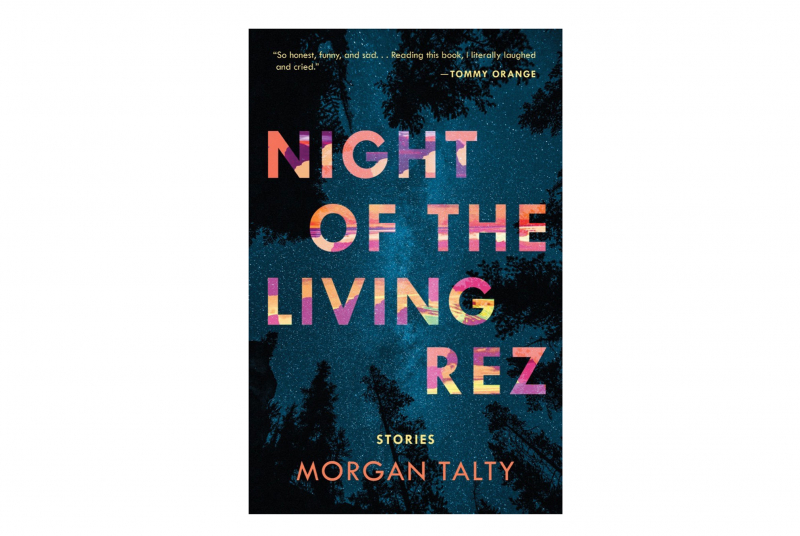 Alumni Books
New titles from Dartmouth writers (July/August 2022)
MORGAN TALTY '16
Night of the Living Rez
Tin House Books
This haunting debut collection of a dozen linked short stories centers on a family that lives on a Native reservation in Maine. With a title that repurposes the classic zombie movie Night of the Living Dead, readers might expect a far more lighthearted book than Talty's effort turns out to be. For all its deadpan comedy and immersion in American pop culture, it is the dark and tragic story of a community plagued by poverty, posttraumatic stress, mental illness, addiction, racism, and history itself. Talty, a citizen of the Penobscot Indian Nation who grew up there, creates characters who push back with familial and cultural ties that bind, fray, and sometimes sever. Their mordant humor is of the saving kind, as necessary as it is often inadequate.
We first meet the protagonist and narrator, David, as a young man walking back to the reservation after failing to score a gram of pot on a snowy winter night. In this terrific opening story, "Burn," he stumbles upon his friend and fellow methadone-clinic patient Fellis, whose braid of hair is stuck to the ice after he dozed off, drunk, on the ground. The only way for David to free his pal is to slice off his treasured hair—funny at first, then not so much. "Look," David asks, "you want me to cut my braid off too?" The following story, "In a Jar," backtracks a decade or more to David as a small boy, discovering a curse left at his family's new house on the rez. "It was a glass jar filled with hair and corn and teeth," he tells us. "The teeth were white with a tint of yellow at the root. The hair was gray and thin and loose. Wild."
Wild is right. What follows in Talty's precociously confident, elegantly sculpted stories is a cascade of losses—of dreams, minds, lives. David's long-suffering mom suffers from seizures but is devoted to a part-time medicine man named Frick, whose Native healing arts keep failing to ward off curses of all kinds. David's sister, Paige, loses her children and then her sanity. Their grandmother succumbs to Alzheimer's. As the grim trajectories of all these characters spiral downward on this book's ingeniously broken, strategically withholding timeline, zombies of one kind or another are always on their way.   —Kevin Nance
DAVID R. GODINE '66
Godine at 50: A Retrospective of Five Decades in the Life of an Independent Publisher
David R. Godine
The publisher reflects on nearly 300 of the most memorable books his small, high-quality press produced during the past half-century. Godine writes that his life as a publisher began in a small workshop at the then-newly opened Hopkins Center, where his mentor, professor Ray Nash, introduced him to the techniques of engraving, lithography, and printing type—and instilled in him a lifelong passion for making beautiful books.  
DAVID STROMEYER '68
Art Making on the Land
Cold Hollow Sculpture Park
The sculptor describes the creation of a new sculpture, Body Politic, while telling the story of his sculpture park and his journey as an artist. He includes several hundred images of his 70 large outdoor works that stand in his park.
TED SCHEU '76
Night-Night Body
Beaver's Pond Press
Poet and teacher Scheu writes sweet couplets that describe kids around the world getting ready for bed and saying goodnight to their heart, lungs, arms, and more. Watercolor illustrations by pediatrician Peter Gergely '76 accompany the rhymes.
ABBYE E. MEYER '02
From Wallflowers to Bulletproof Families: The Power of Disability in Young Adult Narratives
University Press of Mississippi
Representations of people with disability in literature often are weak, two-dimensional, and sometimes harmful. Meyer argues that young-adult narratives about disability often successfully challenge cliches and create complex, nuanced characters who empower disability-rights movements.