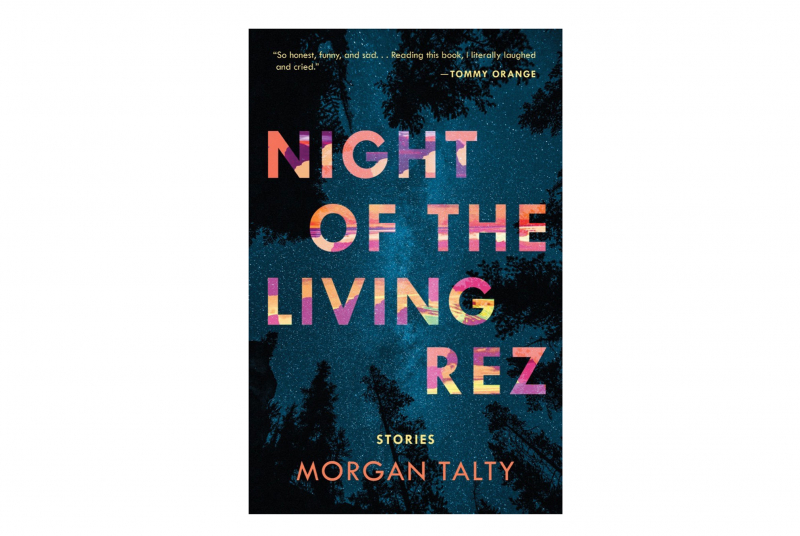 Alumni Books
New titles from Dartmouth writers (July/August 2022)
MORGAN TALTY '16
Night of the Living Rez
Tin House Books
This haunting debut collection of a dozen linked short stories centers on a family that lives on a Native reservation in Maine. With a title that repurposes the classic zombie movie Night of the Living Dead, readers might expect a far more lighthearted book than Talty's effort turns out to be. For all its deadpan comedy and immersion in American pop culture, it is the dark and tragic story of a community plagued by poverty, posttraumatic stress, mental illness, addiction, racism, and history itself. Talty, a citizen of the Penobscot Indian Nation who grew up there, creates characters who push back with familial and cultural ties that bind, fray, and sometimes sever. Their mordant humor is of the saving kind, as necessary as it is often inadequate.
We first meet the protagonist and narrator, David, as a young man walking back to the reservation after failing to score a gram of pot on a snowy winter night. In this terrific opening story, "Burn," he stumbles upon his friend and fellow methadone-clinic patient Fellis, whose braid of hair is stuck to the ice after he dozed off, drunk, on the ground. The only way for David to free his pal is to slice off his treasured hair—funny at first, then not so much. "Look," David asks, "you want me to cut my braid off too?" The following story, "In a Jar," backtracks a decade or more to David as a small boy, discovering a curse left at his family's new house on the rez. "It was a glass jar filled with hair and corn and teeth," he tells us. "The teeth were white with a tint of yellow at the root. The hair was gray and thin and loose. Wild."
Wild is right. What follows in Talty's precociously confident, elegantly sculpted stories is a cascade of losses—of dreams, minds, lives. David's long-suffering mom suffers from seizures but is devoted to a part-time medicine man named Frick, whose Native healing arts keep failing to ward off curses of all kinds. David's sister, Paige, loses her children and then her sanity. Their grandmother succumbs to Alzheimer's. As the grim trajectories of all these characters spiral downward on this book's ingeniously broken, strategically withholding timeline, zombies of one kind or another are always on their way.   —Kevin Nance
DAVID R. GODINE '66
Godine at 50: A Retrospective of Five Decades in the Life of an Independent Publisher
David R. Godine
The publisher reflects on nearly 300 of the most memorable books his small, high-quality press produced during the past half-century. Godine writes that his life as a publisher began in a small workshop at the then-newly opened Hopkins Center, where his mentor, professor Ray Nash, introduced him to the techniques of engraving, lithography, and printing type—and instilled in him a lifelong passion for making beautiful books.  
DAVID STROMEYER '68
Art Making on the Land
Cold Hollow Sculpture Park
The sculptor describes the creation of a new sculpture, Body Politic, while telling the story of his sculpture park and his journey as an artist. He includes several hundred images of his 70 large outdoor works that stand in his park.
TED SCHEU '76
Night-Night Body
Beaver's Pond Press
Poet and teacher Scheu writes sweet couplets that describe kids around the world getting ready for bed and saying goodnight to their heart, lungs, arms, and more. Watercolor illustrations by pediatrician Peter Gergely '76 accompany the rhymes.
ABBYE E. MEYER '02
From Wallflowers to Bulletproof Families: The Power of Disability in Young Adult Narratives
University Press of Mississippi
Representations of people with disability in literature often are weak, two-dimensional, and sometimes harmful. Meyer argues that young-adult narratives about disability often successfully challenge cliches and create complex, nuanced characters who empower disability-rights movements.
Additional books that were not included in our print edition:
Robert Skutch '46 aims The 14th Colony: Alex's Wondrous One-Day Adventure in Founderland at young readers, telling the tale of a 12-year-old boy with an interest in civics who is miraculously whisked away for an afternoon to a little-known island with a bare-bones government founded on the principle of peace (Self-published).  
In Saving Friar Laurence: Love, Death, and Redemption in the Twenty-First Century, Arthur LaFrance '60 draws on his background as a lawyer and Shakespeare scholar to spin a droll fantasy that transports the friar blamed for the deaths of the two star-crossed lovers in 16th-century Romeo and Juliet to 21st-century Connecticut's criminal courts and theater stages to resolve the question—left unanswered—of his fate (Self-published).  
In Pinpointing Excellence: Succeed with Great Executive Coaching and Steer Clear of the Rest, executive coach John Reed '75, TU '79, maps out strategies for corporate leaders to navigate a still largely unregulated industry he says is rife with unqualified and mediocre coaches. He elaborates on the questions to ask to identify competent experts (QRA Press). 
James H. Reynolds III '75, ADV '77, ADV '87, professor emeritus of geology at Brevard College, has led many trips to Iceland and elsewhere as the scientific expert on the Smithsonian Institution's Journeys program. He offers detailed information about the lava fields, hot springs, volcanos, waterfalls, and massive glaciers travelers might see on their own from the road in A Traveler's Guide to the Highway Geology of Iceland : A Geologist's View from the Road of Iceland's Volcanic, Glacial, and Shoreline Features (Linus Learning).  
Paula Holmes-Eber '80 and Lorenz Eber, who circumnavigated the globe with their two daughters on a pair of tandem bicycles and raised $65,000 for the nonprofit World Bike for Breath, recount their adventures—some quite hair-raising, some downright hilarious—in Breathtaking: How One Family Cycled Around the World for Clean Air and Asthma (Falcon Guides).  
In Women and the Religion of Ancient Israel, religion professor Susan Ackerman '80 offers a meticulously researched look at ancient Israelite women's religious practices—guarding temple entrances, creating household shrines, making pilgrimages, and observing rituals—and how they were distinct from those of their male counterparts (Yale University Press).
To make money in a challenging stock market now dominated by tech stocks, Adam Seessel '85 developed an investment strategy that reflects the new realities of the Digital Age, which he details in Where the Money Is: Value Investing in the Digital Age (Avid Reader Press).  
Charles Wheelan '88, a senior lecturer at the Rockefeller Center for Public Policy, uses personal anecdotes, and examples of both excellent and rather awful prose in Write For Your Life: A Guide to Clear and Purposeful Writing (and Presentations). (W. W. Norton).  
In her memoir By F.A.I.T.H: Fully Accepting and Infinitely Trusting His Word, Debra Roberson '89 reminisces about her childhood in Louisiana, her College years, her travels, the challenges she faced in the work world as a Black woman, and her friendships, including with the woman who would become her wife. Another recent book by Roberson is a slim volume of poems and brief essays and stories, titled Listen and You Will Hear (Both self-published).
In A Comb of Wishes Lisa Stringfellow '92 unspools an enchanting tale steeped in Caribbean folklore about a grieving 12-year-old girl who discovers a mermaid's magical comb and the dangerous bargain she bravely makes with the angry mermaid to bring back her lost mother (HarperCollins/ Quill Tree Books).
In Conversations Across America: A Father and Son, Alzheimer's and 300 Conversations Along the TransAmerica Bike Trail that Capture the Soul of America, Kari Loya '93 candidly describes his 4,250-mile, 10-state bike adventure from Virginia to Oregon in 2015 with his 75-year-old father, Merv, who'd been diagnosed with Alzheimer's. It's a touching goodbye studded with photos of the hundreds of people they met along the way (XK Productions).
In his debut science fiction novel Our Lady of the Artilects, Andrew Smith '94, writing as Andrew Gillsmith, weaves a futuristic tale of an artilect—a super-intelligent AI machine, or synth—who becomes possessed by apparitions of a woman in white, an exorcist sent by the Vatican, and a global conspiracy that threatens all humanity (Mar Thomas Publishing).  
The Prince of Infinite Space by Giano L. Cromley '95, an English professor at Kennedy-King College in Chicago, is a coming-of-age novel about Kirby Russo. An aspiring journalist at 17 in his final year at a military academy in 1990, on the brink of the Iraq War, Russo embarks on a search for his long-lost girlfriend and his biological father (Propertius Press).
In Uncertain Ground: Citizenship in an Age of Endless, Invisible War, Marine Corps veteran and acclaimed fiction writer Phil Klay '05 compiles a collection of nonfiction essays and articles he wrote over the span of more than a decade. Taken together, they cast an unflinching eye on the divide between the military and civilian life in the U.S., and the consequences for a country chronically involved in wars when so few people do the fighting (Penguin Press).
Any Given Tuesday: A Political Love Story by high-powered political operative Lis Smith '05, who served as senior advisor to Pete Buttigieg's 2020 presidential campaign, is a frank, irreverent, and no-holds-barred look at her stormy personal and professional odyssey and what it's like to survive a political media storm (HarperCollins).
Edited by Natalie Koch '07, a professor of geography and the environment at Syracuse University, the 17 essays in Spatializing Authoritarianism explore how autocrats and repressive regimes through history have used architecture, landscape, urban planning, monuments, and even political signage to foster nationalism and consolidate power (Syracuse University Press).  
In Whatever the Future Holds: A Story of Grace, Resilience, and Love, by Heidi E.V. McCann, ADV '09, a young romance suddenly takes a devastating turn when the love of the author's life is diagnosed with ALS, or Lou Gehrig's disease. The couple's heartbreaking story centers on their courage and fierce dedication to one another (Green Heart Living).