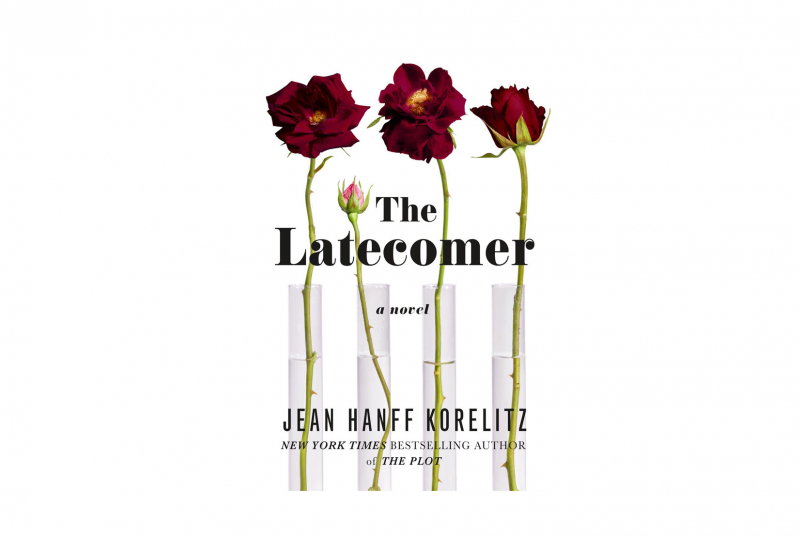 Alumni Books
New titles from Dartmouth writers (May/June 2022)
JEAN HANFF KORELITZ '83
The Latecomer
Celadon Books
Test tube babies, Mormonism, identity politics, the rigors of college admissions, the vagaries of the art market, and the terrorist attacks of 9/11 all figure in The Latecomer, Korelitz's engrossing epic of family dysfunction.
Johanna Oppenheimer wants desperately to have a family. Plagued by infertility and without any financial constraints, she and her husband resort to in vitro fertilization, a technology in its shaky infancy. In a last gasp try, their doctor implants three embryos, consigning a fourth to the freezer, just in case.
In a triumph of modern medicine, Johanna gives birth to triplets. But the picture-book family she envisions continues to elude her. Her sons, Harrison (destined to become a conservative intellectual) and Lewyn (an heir to his father's artistic proclivities), and their sister, Sally (struggling with her sexual identity), fail to develop the expected filial bonds. Nor do they harbor much affection for their doting mother or increasingly absent father, who has found true love elsewhere. In "full flight from one another as far back as their ancestral petri dish," the Oppenheimer clan remains emotionally disconnected, hostile, and at times estranged until years later, when a fourth sibling, Phoebe, the titular latecomer and the story's narrator, determinedly transforms their lives.
Though its three-part narrative offers a few (mostly well-telegraphed) surprises, The Latecomer lacks the hairpin twists of its bestselling predecessor, The Plot. But it is signature Korelitz in other respects: its propulsive storytelling, obsessions (the privileged lives of the New York gentry, the college admissions process, the culture wars), and profusion of literary references. Echoes of F. Scott Fitzgerald's The Great Gatsby, a Korelitz favorite, are unmistakable in a fraternal squabble near the novel's end. "Self-invention is a thoroughly American virtue….We're a country of fabulists and seekers," Harrison insists. Lewyn retorts: "Why don't you just say fakes and charlatans?" It's a century-old argument that, in today's fractious, divided America, still resonates. —Julia M. Klein
JONATHAN HOWLAND '83
Native Air
Green Writers Press
In his compelling debut novel, mountaineering enthusiast Howland captures the thrill of two friends braving the challenges and breathless beauty of adventure on the cliffs of Yosemite and California's High Sierra. Years later, after one of them dies, the surviving partner faces a spiritual and emotional crisis and returns to the peaks, where he rediscovers their rejuvenating and healing intensity.
KATHARINE (UHRE) GREGORIO '00
The Double Life of Katharine Clark
Sourcebooks
Gregorio recounts the experience of her remarkably gutsy great-aunt, journalist Katharine Clark, who, while on assignment in Belgrade, Yugoslavia, smuggles the scathing anti-Communist manifesto of Milovan Djilas, a high-ranking but disillusioned Communist leader, out of the country and into the hands of American publishers. Clark's courage helped open the eyes of millions of readers in the West to what really was happening behind the Iron Curtain.  
NICOLE YUNGER HALPERN '11
Quantum Steampunk: The Physics of Yesterday's Tomorrow
Johns Hopkins University Press
Halpern, a Harvard-trained physicist, blends futuristic technology with natural philosophy of the past—that is, quantum computation and information processing with Victorian-era thermodynamics (think steam engines). She explores steampunk in a surprisingly accessible, conversational, and even playful manner.  
LINDSAY MACMILLAN '16
The Heart of the Deal 
Penguin/Random House
In MacMillan's debut novel, a junior investment banker struggling with work and romance as she nears the big 3-0 decides to approach her love life like a business transaction. She closes a major deal at work, has a poem published in The New York Times, and finds the man she figures she'll marry—but not without some unexpected twists.
Additional books that were not included in our print edition:
In Time to Come Clean: Rescuing Jesus from Christianity, Tom Hall '54 argues that by conflating Jesus with Christ and depicting Jesus as a divine being, Christianity has strayed from its purpose as a belief system to guide an ethical life. The author calls on Christians to refocus on Jesus' earthly life and apply his message to modern existence (Polebridge Books).  
In Creating the Modern Army: Citizen-Soldiers and the American Way of War, 1919-1939, William J. Woolley '59 details how the U.S. Army evolved and adapted during the period between the two world wars. Congressional action and the efforts of officers to formalize military policies spurred changes that helped the U.S. prevail in World War II (University Press of Kansas).
The brain is like a crime scene, full of clues that lead down different paths of investigation, suggests Dr. Howard L. Weiner '66 in Brain Under Siege. The Harvard neurology professor takes readers through technological advances in neurology and details setbacks, false leads, and victories on the front lines of brain research (BenBella Books). 
In his fast-paced novel Copper Canyon—a legal thriller about an underground coal mine disaster—Tim Means '69 suggests that government regulation of underground mining can have potentially tragic consequences and jeopardize miners' safety (Thomas Cornell Means).  
In What's What and What to Do About It: Answers You Didn't Know You Wanted to Questions You Didn't Know You Had, screenwriter Steve Adams '69 pens, from the perspective of imaginary self-help/advice columnist Waldo Mellon, answers to profound, anonymous, and often hilarious fictitious questions about life. "It's meant to be sipped and not devoured," says Adams, whom Larry David has called "the best writer I know who has a voice like no other." (Seven Stories Press)       
Professor Figgy (aka Jim Noonan '01) leads kids through a weather wonderland in Professor Figgy's Weather & Climate Science Lab, which brims with hands-on activities and experiments about the atmosphere, wind, rain, and climate change (Quarry Books).  
In this translation, James Adam Redfield '06 renews Yiddish writer Mikan Yoses Berdichevsky's From a Distant Relation, a volume of short stories, monologues, and folk tales. (Syracuse University Press). 
In his debut picture book How to Bake a Universe, Alec Carvlin '15 explains the Big Bang from a culinary perspective. His cosmic cookbook provides a whimsical way for kids to learn how the planet—and the rest of our universe—came into being (W. W. Norton).