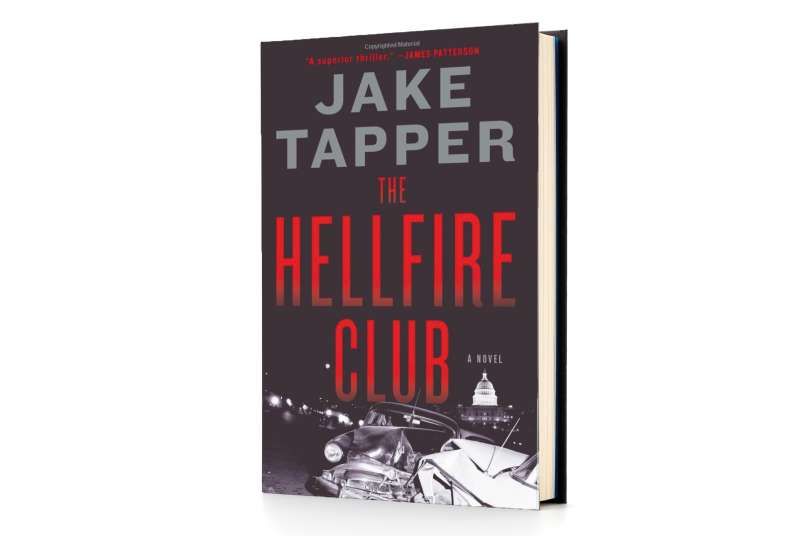 Alumni Books
New titles from Dartmouth writers (July/August 2018)
Jake Tapper '91
The Hellfire Club
(Little, Brown and Co.)
With his first novel, CNN anchor Tapper leaps back in time and into a Washington, D.C., swamp of corruption and double-dealing. The protagonist of The Hellfire Club is Congressman Charlie Marder, an idealistic WW II veteran who goes to D.C. and loses his moral compass. Questionable compromises, sinister conspiracies, and violence ensue.
"The political system is rotten," Tapper tells DAM. "It requires corruption and obsequiousness in a way that wears down good people and wears down their principles."
The novel takes its name from the real-life Hellfire Club, a clique of 18th-century British aristocrats who engaged in secret orgiastic revels. "The elite would engage in the most debauched activities and also forge alliances that had an impact on English society," says Tapper. "Finding out that Ben Franklin attended at least one of those bacchanals planted a seed in my head: What if that continued? What if there were secret societies like that today? I can't imagine that there aren't."
A history major at Dartmouth, Tapper set his story in 1954 at the height of McCarthyism. He depicts his characters interacting with Sen. Joe McCarthy, his henchman Roy Cohn, Senate Democratic Leader Lyndon B. Johnson, and the Kennedy brothers. The Hellfire Club is filled with unlikely but accurate details such as McCarthy's habit of eating a stick of butter to blunt the effects of alcohol. Dartmouth gets a shout-out in a reference to the 1953 Commencement address by President Eisenhower. The author of three nonfiction books (2012's The Outpost, on the war in Afghanistan, is being made into a movie), Tapper has achieved celebrity for his aggressive interviewing style. "This was even more fun," he says, "because it was a rollicking adventure, and I could really go to extremes and push the boundaries."
Tapper sees parallels between the 1950s and our own era. "Obviously, McCarthyism and Trumpism are very different. But the idea of smearing people and lying about people and having no regard for the truth—that is something that they have in common," he says. "Something else that they have in common is an entire political and media world unsure of how to react." —Julia M. Klein
Read an excerpt from The Hellfire Club.
Stephen Farnsworth '83
Presidential Communication and Character: White House News Management from Clinton and Cable to Twitter and Trump
(Routledge)
The University of Mary Washington political science professor analyzes the woes presidents have had controlling their messages from the early days of TV to Twitter despite the inherent power of their office.
Christopher Schmidt '96
The Sit-Ins: Protest and Legal Change in the Civil Rights Era
(University of Chicago Press)
Schmidt, a professor at Chicago-Kent College of Law, examines how the U.S. Supreme Court wrestled with constitutional law issues arising from the civil rights lunch counter sit-ins of the early 1960s.
Kate Siber '02
National Parks of the U.S.A.
(Wide Eyed Editions)
Outside and National Geographic Traveler writer Siber introduces young readers to the creatures and habitats of America's iconic natural parks—from Florida's river-laced Everglades to the Grand Canyon's whitewater rapids to the deserts of Death Valley.
Hannah Fries '04
Forest Bathing Retreat
(Storey Publishing)
The award-winning poet takes a meditative walk through the woods in her latest book. Inspired by the increasingly popular Japanese practice of shinrin-yoku (forest bathing), Fries combines reflections and guided mindfulness exercises with a curated selection of inspirational musings from poets and naturalists.
Sonia Faruqi '07
The Oyster Thief
(Pegasus Books)
In her first book since food industry expose Project Animal Farm: An Accidental Journey into the Secret World of Farming and the Truth About Our Food—a finalist for a 2017 International Book Award—Faruqi follows a mermaid's quest for an elixir to save her brother, who is sickened by an oil spill.
Additional books that were not listed in our print edition:
Arthur Hittner '71, who has written extensively about art and served as trustee of two art museums, offers a fictional account inspired by the life of Harold Rabinovitz, a relatively unknown American artist who died as a prisoner of war during WW II, in Artist, Soldier, Lover, Muse (Apple Ridge Fine Arts). 
Retired attorney Michael Carroll '78 draws on his experiences as an international commodities trader in this story about a billionaire oil trader and his wife, who he believes is betraying him, in the debut novel, Zero to Fifty (La Maison Publishing). 
Social worker Carol Gieg '79 outlines her struggle to recover from a traumatic brain injury in TBI—To Be Injured: Surviving and Thriving after a Brain Injury (Archway Publishing). 
High school teacher and test prep counselor Joshua Platt '99 details the steps students should take when applying to college as coauthor of workbook-style guide Kicking Apps and Making Names: A Guide to Successfully Navigating the College Application Process (Kicking Apps Press). 
Rob Ristagno '00, CEO of digital marketing firm Sterling Woods Group, provides a state-of-the-art playbook for selling content online with A Member is Worth a Thousand Visitors: A Proven Method for Making More Money Online (Amazon Digital Services). 
Nick Taranto '06, the cofounder of home delivery food service Plated, argues that being close to the food we consume is a healthy solution to the problems of the industrial American food complex in The Evolved Eater: A Quest to Eat Better, Live Better, and Change the World (St. Martin's Press). 
Emily Winkler '08, a medieval history professor at the University of Oxford, examines how 11th-century kings were portrayed by 12th-century historians—and how much of our current understanding of history stems from writers' biases rather than their sources—in Royal Responsibility in Anglo-Norman Historical Writing (Oxford University Press). 
Champlain College computer science professor David Kopec '09 guides programmers through foundational techniques and advanced features of the Swift programming language in Classic Computer Science Problems in Swift: Essential Techniques for Practicing Programmers (Manning Publications).