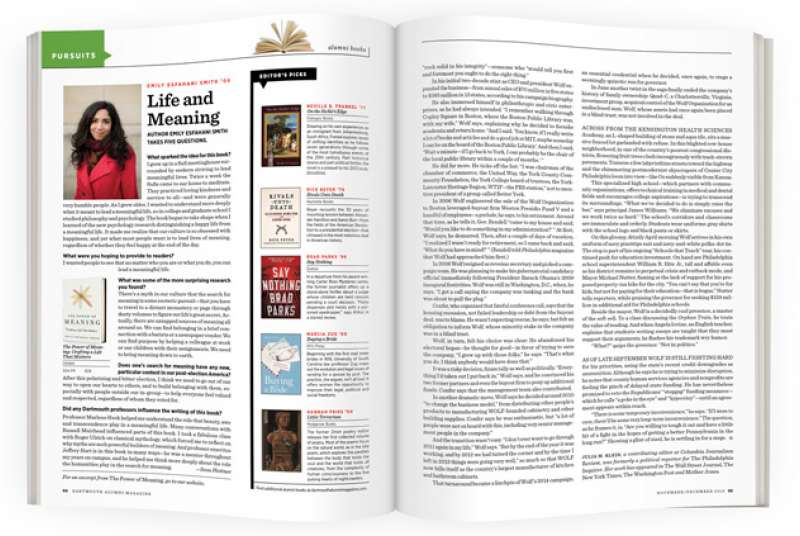 Alumni Books
New titles from Dartmouth writers (March/April 2017)
Emily Esfahani Smith '09
The Power of Meaning: Crafting a Life That Matters
(Crown)
The author takes five questions.
What sparked the idea for this book?
I grew up in a Sufi meetinghouse surrounded by seekers striving to lead meaningful lives. Twice a week the Sufis came to our home to meditate. They practiced loving kindness and service to all—and were generally very humble people. As I grew older, I wanted to understand more deeply what it meant to lead a meaningful life, so in college and graduate school I studied philosophy and psychology. The book began to take shape when I learned of the new psychology research distinguishing a happy life from a meaningful life. It made me realize that our culture is so obsessed with happiness, and yet what most people want is to lead lives of meaning, regardless of whether they feel happy at the end of the day. 
What were you hoping to provide to readers? 
I wanted people to see that no matter who you are or what you do, you can lead a meaningful life. 
What was some of the more surprising research you found?
There's a myth in our culture that the search for meaning is some esoteric pursuit—that you have to travel to a distant monastery or page through dusty volumes to figure out life's great secret. Actually, there are untapped sources of meaning all around us. We can find belonging in a brief connection with a barista or a newspaper vendor. We can find purpose by helping a colleague at work or our children with their assignments. We need to bring meaning down to earth.
Does one's search for meaning have any new, particular context in our post-election America?
After this polarizing and bitter election, I think we need to go out of our way to open our hearts to others, and to build belonging with them, especially with people outside our in-group—to help everyone feel valued and respected, regardless of whom they voted for. 
Did any Dartmouth professors influence the writing of this book?
Professor Marlene Heck helped me understand the role that beauty, awe and transcendence play in a meaningful life. Many conversations with Russell Muirhead influenced parts of this book. I took a fabulous class with Roger Ulrich on classical mythology, which forced me to reflect on why myths are such powerful builders of meaning. And professor emeritus Jeffrey Hart is in this book in many ways—he was a mentor throughout my years on campus, and he helped me think more deeply about the role the humanities play in the search for meaning.        —Sean Plottner
Read an excerpt from The Power of Meaning.
Neville D. Frankel '71
On the Sickle's Edge
(Diálogos Books)
Drawing on his own experiences as an immigrant from Johannesburg, South Africa, Frankel explores issues of shifting identities as he follows seven generations through some of the most tumultuous events of the 20th century. Part historical drama and part political thriller, the novel is a prequel to his 2013 book, Bloodlines.
Rick Beyer '78
Rivals Unto Death
(Hachette Books)
Beyer recounts the 30 years of mounting tension between Alexander Hamilton and Aaron Burr—from the fields of the American Revolution to a presidential election—that climaxed in the most notorious duel in American history.
Brad Parks '96
Say Nothing
(Dutton)
In a departure from his award-winning Carter Ross Mysteries series, the former journalist offers up a stand-alone thriller about a judge whose children are held ransom pending a court decision. "Parks dispenses plot twists with a poisoned eyedropper," says Kirkus in a starred review.
Marcia Zug '00
Buying a Bride
(NYU Press)
Beginning with the first mail order brides in 1619, University of South Carolina law professor Zug maps out the evolution and legal issues of sending for a spouse by post. The practice, she argues, isn't all bad: It offers women the opportunity to improve their legal, political and social freedoms.
Hannah Fries '04
Little Terrarium
(Hedgerow Books)
The former Orion poetry editor releases her first collected volume of poetry. Most of the poems focus on the natural world, as in the title poem, which explores the parallels between the body that holds the soul and the world that holds all creatures, from the complexity of human consciousness to the five pulsing hearts of nightcrawlers.
Additional books that were not listed in our print edition:
Stephen Mullins '54, curator and founder of the American Toby Jug Museum in Evanston, Illinois, explores the history of character pitchers and offers details on various majolica-producing countries as coauthor of A World of Majolica Character Pitchers (American Toby Jug Museum).
David Bergengren '68 offers an historical novel that reverberates with the plots of World War II and the Cold War as seen from the perspective of a German-American Jew who spent WW II trapped in Germany in Hitler's Assassin (Stillwater River Publications).
Howard Reiss '73 follows a N.Y.C. lawyer as he returns to his small hometown to dispose of his parents' house and deal with the demons he left behind in The Old Drive-In (Krance Publishing).
Susan Cory '75, a residential architect in Cambridge, Massachusetts, in her second mystery Facade (Reid Press), follows architect and amateur sleuth Iris Reid into the dark world surrounding a missing schoolgirl.
Lisen Stromberg '84, a journalist and culture innovation consultant, draws on social science research and data collected from nearly 1,500 women to reveal how trailblazing women integrate work and personal life priorities in Work Pause Thrive: How to Pause for Parenthood Without Killing Your Career (BenBella Books).
Seth Abramson '98, an English professor at the University of New Hampshire, offers up post-postmodern pieces on ethnicity, religion, gender and class in the final addition to his "Metamodern Trilogy," Golden Age (BlazeVox).
Kristin (Veley) Markovich '00, writing as Kristin Arden, documents the love, friendship and humor that result when children frolic with their pets in Kids & Pups: Play Days in Central Park (CreateSpace).
Charif Shanahan, Adv'10, confronts the challenges of a complex cultural inheritance, informed by colonialism and his mother's immigration to the United States from Morocco, in his first book of poetry, Into Each Room We Enter without Knowing (Southern Illinois University Press).