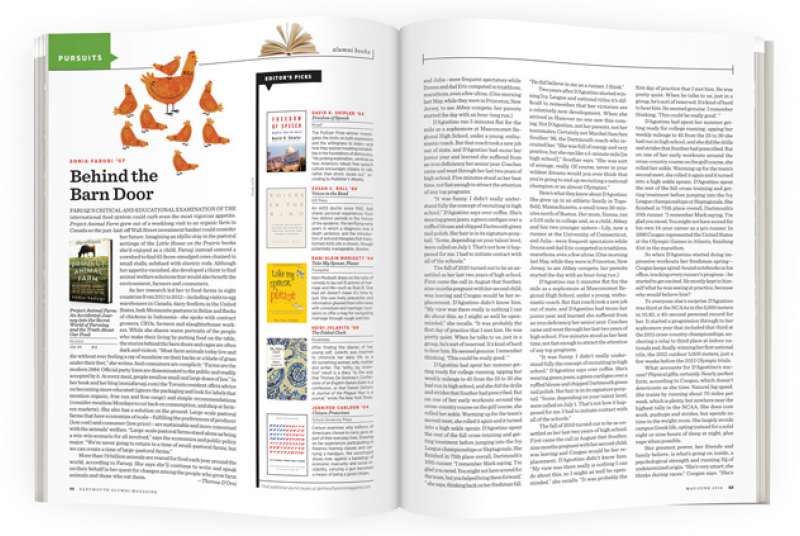 Alumni Books
New titles from Dartmouth writers (July-August 2015)
Sonia Faruqi '07
Project Animal Farm: An Accidental Journey into the Secret World of Farming and the Truth About Our Food
(Pegasus)
Faruqi's critical and educational examination of the international food system could curb even the most vigorous appetite. Project Animal Farm grew out of a weeklong visit to an organic farm in Canada so the just-laid-off Wall Street investment banker could consider her future. Imagining an idyllic stay in the pastoral settings of the Little House on the Prairie books she'd enjoyed as a child, Faruqi instead entered a cowshed to find 65 feces-smudged cows chained in small stalls, subdued with electric rods. Although her appetite vanished, she developed a thirst to find animal welfare solutions that would also benefit the environment, farmers and consumers.
As her research led her to food farms in eight countries from 2011 to 2012—including visits to egg warehouses in Canada, dairy feedlots in the United States, lush Mennonite pastures in Belize and flocks of chickens in Indonesia—she spoke with contract growers, CEOs, farmers and slaughterhouse workers. While she shares warm portraits of the people who make their living by putting food on the table, the stories behind the barn doors and cages are often dark and violent. "Most farm animals today live and die without ever feeling a ray of sunshine on their backs or a blade of grass under their feet," she writes. And consumers are complicit: "Farms are the modern 1984. Official party lines are disseminated to the public and readily accepted by it. At every meal, people swallow small and large doses of lies." In her book and her blog (soniafaruqi.com) the Toronto resident offers advice on becoming more educated (ignore the packaging and look for labels that mention organic, free run and free range) and simple recommendations (consider meatless Mondays to cut back on consumption, and shop at farmers markets). She also has a solution on the ground: Large-scale pastoral farms that have economies of scale—fulfilling the preferences of producer (low cost) and consumer (low price)—are sustainable and more concerned with the animals' welfare. "Large-scale pastoral farms stand alone as being a win-win scenario for all involved," says the economics and public policy major. "We're never going to return to a time of small-pastoral farms, but we can create a time of large-pastoral farms."
More than 70 billion animals are reared for food each year around the world, according to Faruqi. She says she'll continue to write and speak on their behalf in her quest for changes among the people who grow farm animals and those who eat them.            —Theresa D'Orsi
David K. Shipler '64
Freedom of Speech
(Knopf)
The Pulitzer Prize-winner investigates the limits on both expression and the willingness to listen—and how they expose troubling instabilities in the foundations of democracy. "His probing exploration…reminds us how America's robust free-speech culture encourages citizens to talk, rather than shoot, issues out," according to Publisher's Weekly. 
Susan C. Ball '80
Voices in the Band
(ILR Press)
An AIDS doctor since 1992, Ball shares personal experiences from two distinct periods in the history of the epidemic: the terrifying early years in which a diagnosis was a death sentence, and the introduction of antiviral therapies that transformed AIDS into a chronic, though potentially manageable, disease. 
Dani Klein Modisett '84
Take My Spouse, Please
(Trumpeter)
Klein Modisett draws on the rules of comedy to lay out 15 axioms of marriage and life—such as Rule 8: One bad set doesn't mean it's time to quit. She uses lively anecdotes and information gleaned from interviews with comedians and marriage counselors to offer a map for navigating marriage through rough patches.
Heidi Julavits '90
The Folded Clock
(Doubleday)
After finding the diaries of her young self, Julavits was inspired to chronicle her daily life as a 40-something woman, wife, mother and writer. The "witty, sly, inventive" result is a diary "in the way that Thomas De Quincey's Confessions of an English Opium Eater is a confession, or that Daniel Defoe's A Journal of the Plague Year is a journal," wrote The New York Times.
Jennifer Carlson '04
Citizen-Protectors
(Oxford University Press)
Carlson examines why millions of Americans choose to carry guns as part of their everyday lives. Drawing on her experiences participating in firearms training classes and carrying a handgun, the sociologist shows how, against a backdrop of economic insecurity and social instability, carrying a gun becomes a means of being a good citizen.
Additional books that were not listed in our print edition:
University of Nevada biology professor Stephen Jenkins '68 seeks to make scientific inquiry—including evaluating and interpreting scientific explanations of the natural world—the basis of how colleges teach introductory biology with Tools for Critical Thinking in Biology (Oxford University Press).
Historian David Muller Jr. '70 offers the first comprehensive history of the Bible's most mysterious book, focusing on the second- through fourth-century controversies over its uncertain authorship and unorthodox theology, in Testing the Apocalypse: The History of the Book of Revelation (WestBow).
Business consultant Santiago Lopez '73 offers a step-by-step approach to achieving an optimal balance between customer loyalty and product mix profitability in Value-based Marketing Strategy (Vernon Press).
Rick Beyer '78, the director of the 2013 PBS documentary The Ghost Army (who told a part of the story in "Seuss on the Loose" in the November/December 2014 issue of DAM), further describes the story of American G.I.s and their success in fooling the German army in The Ghost Army of World War II (Princeton Architectural Press).
David Locke Hall '78, who worked as a federal prosecutor for more than 20 years, tells the true story of the U.S. Justice Department's pursuit and capture of Xiang Li, a notorious Chinese cyber-criminal, in Crack99: The Takedown of a $100 Million Chinese Software Pirate (W.W. Norton & Co.).
Jeff Kemp '81—who played for Dartmouth and then the Los Angeles Rams, San Francisco 49ers, Seattle Seahawks and Philadelphia Eagles—explains how thinking like a quarterback can help when dealing with personal and professional setbacks in Facing the Blitz: Three Strategies for Turning Trials Into Triumphs (Bethany House).
Andrew Lewin '81 explores one of the most renowned photojournalists of the 21st century in Eve Arnold (Prestel), the first volume of the Magnum Legacy: Lives Behind Photographs series. "No photographer better represents the link between the founding generation of Magnum Photos and the present," Lewin, the managing editor of the Magnum Series, writes in the foreword.
Scott Manning Stevens '85, an associate professor of Native American studies at Syracuse University, gathered 19 essays from leading scholars in the field to reassess major events in light Native American influences as coeditor of Why You Can't Teach United States History without American Indians (University of North Carolina Press).
University of Illinois professor Christopher Boyer '86 examines the gradual politicization of rural Mexico's timberland and how local populations have handled the advances in Political Landscapes: Forests, Conservation and Community in Mexico (Duke University Press).
Scott Straus '92, a political science and international studies professor at the University of Wisconsin-Madison, looks to postcolonial Africa to understand the origins and motivations of genocide—and why it has not occurred in some countries that seemed at risk—in Making and Unmaking Nations: War, Leadership, and Genocide in Modern Africa (Cornell University Press).
L.A. screenwriter Neel Shah '05 shares a story of falling in love in the digital age—complete with confounding and funny exchanges that can be scrutinized by friends who are a mere click away—as coauthor of Read Bottom Up (Dey Street Books).
Noah Tsika '05, a media studies professor at Queens College, explores how the industry's top on-screen talents have helped Nollywood to expand beyond West Africa and into the diaspora to become one of the globe's most prolific and diverse media producers in Nollywood Stars: Media and Migration in West Africa and the Diaspora (Indiana University Press).