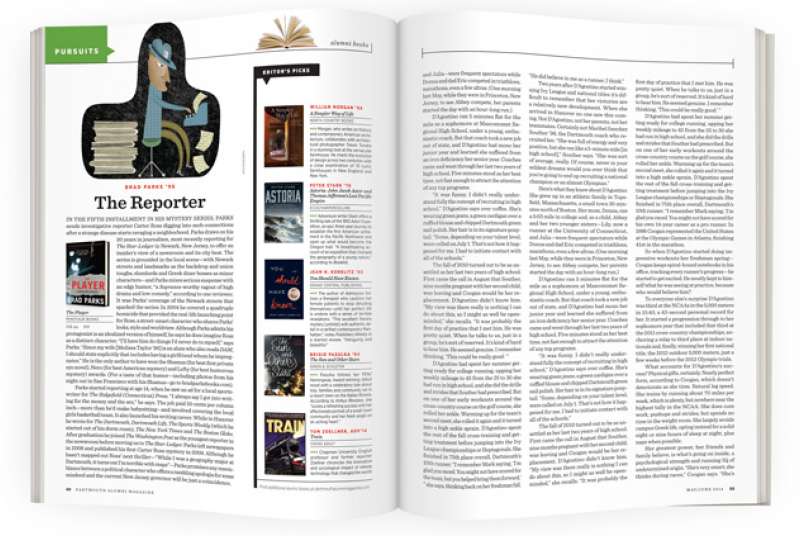 Alumni Books
New titles from Dartmouth writers (March-April 2014)
Brad Parks '96
The Reporter
In the fifth installment in his mystery series, The Player (Minotaur Books), Parks sends investigative reporter Carter Ross digging into mob connections after a strange disease starts ravaging a neighborhood. Parks draws on his 20 years in journalism, most recently reporting for The Star-Ledger in Newark, New Jersey, to offer an insider's view of a newsroom and its city beat. The series is grounded in the local scene—with Newark streets and landmarks as the backdrop and union toughs, slumlords and Greek diner bosses as minor characters—and Parks mixes serious suspense with an edgy humor, "a Sopranos-worthy ragout of high drama and low comedy," according to one reviewer. It was Parks' coverage of the Newark streets that sparked the series: In 2004 he covered a quadruple homicide that provided the real-life launching point for Ross, a street-smart character who shares Parks' looks, style and worldview. Although Parks admits his protagonist is an idealized version of himself, he says he does imagine Ross as a distinct character. "I'll have him do things I'd never do to myself," says Parks. "Since my wife [Melissa Taylor '96] is an alum who also reads DAM, I should state explicitly that includes having a girlfriend whom he impregnates." He is the only author to have won the Shamus (for best first private eye novel), Nero (for best American mystery) and Lefty (for best humorous mystery) awards. (For a taste of that humor—including photos from his night out in San Francisco with his Shamus—go to bradparksbooks.com.)
Parks started reporting at age 14, when he saw an ad for a local sportswriter for The Ridgefield (Connecticut) Press. "I always say I got into writing for the money and the sex," he says. The job paid 50 cents per column inch—more than he'd make babysitting—and involved covering the local girls basketball team. It also launched his writing career. While in Hanover he wrote for The Dartmouth, Dartmouth Life, The Sports Weekly (which he started out of his dorm room), The New York Times and The Boston Globe. After graduation he joined The Washington Post as the youngest reporter in the newsroom before moving on to The Star-Ledger. Parks left newspapers in 2008 and published his first Carter Ross mystery in 2009. Although he hasn't mapped out Ross' next thriller—"While I was a geography major at Dartmouth, it turns out I'm terrible with maps"—Parks promises any resemblance between a political character who offers a rambling apologia for some misdeed and the current New Jersey governor will be just a coincidence.
William Morgan '66
A Simpler Way of Life (North Country Books)
Morgan, who writes on historic and contemporary American architecture, collaborates with architectural photographer Trevor Tondro in a stunning look at the vernacular farmhouse. He charts the evolution of design across two centuries with a close examination of 19 rustic farmhouses in New England and New York.
Peter Stark '76
Astoria: John Jacob Astor and Thomas Jefferson's Lost Pacific Empire (Ecco/HarperCollins)
Adventure writer Stark offers a thrilling tale of the 1810 Astor Expedition, an epic three-year journey to establish the first American settlement in the Pacific Northwest and open up what would become the Oregon trail. "A breathtaking account of an expedition that changed the geography of a young nation," according to Booklist.
Jean H. Korelitz '83
You Should Have Known (Grand Central Publishing)
The author of Admission follows a therapist who cautions her female patients to stop deluding themselves—until her perfect life is undone with a series of terrible revelations. "This excellent literary mystery [unfolds] with authentic detail in a rarified contemporary Manhattan," notes Publishers Weekly in a starred review. "Intriguing and beautiful."
Brigid Pasulka '94
The Sun and Other Stars (Simon & Schuster)
Pasulka follows her PEN/Hemingway Award-winning debut novel with a celebratory tale about loss, families and community set in a resort town on the Italian Riviera. According to Kirkus Reviews, she "scores a refreshing success with her affectionate portrait of a small-town community and her fresh angle on an aching heart."
Tom Zoellner, Adv'14
Train (Viking Adult)
Chapman University English professor and former reporter Zoellner chronicles the innovation and sociological impact of railway technology that changed the world.
Additional books that were not listed in our print version:
Award-winning film director and screenwriter Gerald Schnitzer '40 collaborates with Marcia Calhoun Forecki in a fictional medical thriller inspired by a real environmental disaster in Blood of the White Bear (WriteLife).
Pulitzer Prize-winning journalist Nick Kotz '55 combines historical reporting with eloquent storytelling as he follows the immigration and assimilation of his grandfather in the United States with The Harness Maker's Dream: Nathan Kallison and the Rise of South Texas (Texas Christian University Press).
Michael Lasser '57, host of National Public Radio's Fascinatin' Rhythm, publishes a second volume on the history and analysis of American popular music, focusing on the first half of the 20th century, with America's Songs II: From the 1890s to the Post-War Years (Routledge).
Ernest Latham Jr. '60, the coordinator of advanced area studies for Romania and Moldova at the Foreign Service Institute, shares a collection of sermons he preached as an Anglican lay reader during his time as an American cultural attaché in Romania and Greece in In Caesar's Household (Editura Vremea).
Jim Morse '62, a former Vermont Supreme Court justice, shares his insights on life with excerpts and colorful sketches from his career-long journals in Morse's Doodles and Jots (Red Barn Books).
Bill Zarchy '68, a freelance director of photography who has shot film projects in 30 countries, offers a part memoir, part armchair travel book that takes readers inside the international adventures of film crews in Showdown at Shinagawa: Tales of Filming from Bombay to Brazil (Roving Camera Press).
Peter Blodgett '74, director of the Latham Memorial Library in Thetford, Vermont, tells the tale of a little girl's search for the truth about Santa Claus in the children's book, Santa Luna: A Hawaiian Christmas Story (self published).
Fundraising and philanthropy expert Doug White '75 explores the ethical question of donor-recipient sovereignty through a notorious case study of charity mismanagement in Abusing Donor Intent: The Robertson Family's Epic Lawsuit Against Princeton University (Paragon House).
Henry Hart '76, a professor of English and humanities at the College of William and Mary, reflects on the haunting and illuminating role of the past in a new collection of poetry, Familiar Ghosts (Orchises Press).
Jay Yisrael Rosenberg '82, a program associate at the Jewish Lithuanian Heritage Project, offers an anthology of positive prophecies in the Hebrew Bible in Rak Besorot Tovot (Orion Publishers).
Henry Pickford '83, an assistant professor of German at the University of Colorado, Boulder, translates a book of poetry by the late Russian poet and Dartmouth professor Lev Loseff in Selected Early Poems (SpuytenDuyvil).
James Goodman '90, a NASA earth system science graduate fellow and the founder of HySpeed Computing, provides an overview of the current state-of-the-art technologies for reef mapping in Coral Reef Remote Sensing: A Guide for Mapping, Monitoring and Management (Springer).
Snowden Wright '04, who has written for Salon, The Atlantic and Esquire, embellishes the mysterious life and death of blues legend Robert Johnson in his debut novel, Play Pretty Blues (Engine Books).
Stefani Ruper '10, a health blogger at PaleoforWomen.com, explores health and fitness in the realm of natural womanhood in her third book, Sexy by Nature: The Whole Foods Solution to Radiant Health, Life-long Sex Appeal and Soaring Confidence (Victory Belt Publishing).