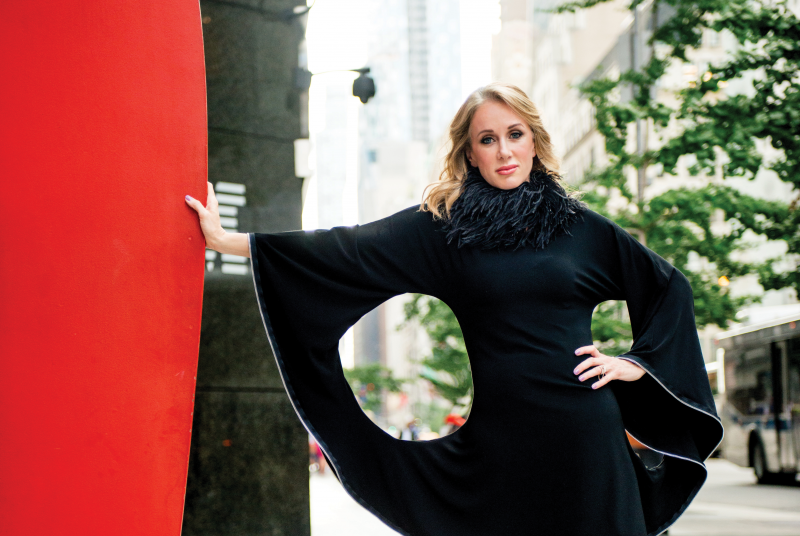 "The Sensorial Experience"
Arbiter of taste Pauline Brown '88 explains the concept of aesthetic intelligence.
Is Dartmouth green the stuff of envy? Just like Dom Pérignon champagne, Bulgari jewelry, or Tesla cars, the Big Green has its own distinctive brand codes. So says Pauline Brown, who has spent her career curating luxury brands. Brown served as chairwoman of the North American division for luxury goods conglomerate LVMH (Moët Hennessy-Louis Vuitton), directed strategy at the Estée Lauder Cos., and taught aesthetics at Harvard Business School. This year the corporate connoisseur published her taste manifesto, Aesthetic Intelligence (Harper Business), which advises businesses on how to tune into the emotional and sensory experiences of customers. "When a product connects with us on multiple sensorial levels, seduction sets in," Brown writes. Here the former English major discusses the business of enticement, the art of curating brands, and how it all applies to a certain college in the North Woods.
In a nutshell, what is aesthetic intelligence?
In a word, it's taste. Aesthetics is not about creativity or artistry. It's the pleasure derived from perceiving an object or experience through our senses. Aesthetic intelligence is the ability to decipher not only what feels good, but why and how to deliver on it. 
Can you give an example?
Take Steve Jobs, who was a smart guy but not an off-the-charts genius along the lines of, say, Bill Gates or Albert Einstein. Moreover, if you go to the classic definition of emotional intelligence and social intelligence, Jobs was well below average. But he had one thing that transformed his entire sector—an ability to re-envision what computing could feel like. He was an aesthetic genius.
You have an M.B.A. from Wharton, and you taught at Harvard. Traditionally, business education emphasizes analytical skills and metrics, but aesthetic intelligence seems much more subjective. Did aesthetics require you to unlearn some of your business education?
Like most highly trained businesspeople, I became so laser focused on metrics and quantitative analysis that I lost a lot of my aesthetic sensibilities. Over time, I recovered them. Do we all have that ability to regain our aesthetic intelligence? I would say yes. When you look at how we're educated, the focus is on utility, linear problem-solving, and  cognitive thinking. In the end, we become numb to our feelings and sensations and don't listen to them or leverage them nearly enough.
Is aesthetics something more intuitive?
I struggle with this idea that aesthetics is instinctive or intuitive because of the implication that you're either born with this ability, or you're not. If you go through the key steps to developing aesthetic intelligence, you certainly can enhance your taste levels over time. It's a muscle that needs to be exercised. That is not to say that everyone is born at the same standard. There are people who come into this world with aesthetic gifts such as the chef Wolfgang Puck, who has a great sensibility for combining flavors and ingredients, or Estée Lauder, who had a very refined sense of aroma and ability to formulate fragrances that elicit particular emotions. That said, everybody has the potential to get better in any one of those dimensions. 
Is aesthetic intelligence a human trait the other "AI," artificial intelligence, can't replace?
I'd say it's the only one. In my lifetime I don't envision any sort of automated system that might prepare a meal that's better than what I might be served by Daniel Boulud. I don't believe in my lifetime a computer will be able to design a building better than I.M. Pei or Frank Gehry. Only humans have the imagination needed to deliver true inspiration and sensorial delight.
"The best taste comes from compromise and tradeoffs—knowing not just what to include but what not to include."
You quote Coco Chanel, who once said, "Elegance is refusal." What does this mean to you?
Often people think that having good taste takes money. I would say money is a liability. The best taste comes from compromise and tradeoffs—knowing not just what to include but what not to include. Just because it's good doesn't mean it should be in the mix. Being able to curate, as Chanel did so masterfully in fashion, is the final stage of developing aesthetic intelligence.
As a teenager, your fashion sensibility was Vidal Sassoon and LeSportsac. At Dartmouth in the 1980s you encountered a preppy style: L.L.Bean, duck boots, fleece pullovers. Did you feel out of place? 
I still feel out of place when I go there! I go to my reunions,  and I'm the only one in high heels. Back in the 1980s, I felt as out of place as if I had gone to some remote village in Japan. It was very foreign to me—and not just for the style of dress. There was a way of speaking and interacting, a heritage that was distinct to the school and so many of my classmates. 
What draws you to work for companies that emphasize lifestyle and luxury?
I'm attracted to creative people—ones who thrive on ideas and possibilities, as opposed to people who just solve problems. Luxury companies are built on creative cultures.We all need problem-solvers in our lives, but I don't necessarily want to be around them all day long.
Is Dartmouth a luxury brand? 
Absolutely. The three basic tenets of luxury goods are that they're hard-to-find, hard-to-make, and last forever.
Hard-to-find means scarcity. Less than 10 percent of applicants get into Dartmouth, and only a small percentage of people who are aware of the brand have an affiliation, so clearly the school has scarcity value. Hard-to-make means that it takes a certain skill and artisanship to deliver on the proposition, much like a well-crafted timepiece or fine jewelry. Once you're in the school, you still have to have the skills and discipline to make it all the way through. Moreover, I think of the professors of Dartmouth as artisans whose mastery is required to keep the reputation going strong for centuries. Finally, goods that last forever mean they have staying power. Even though Dartmouth continues to evolve, the fundamentals of what make the school special and desirable are still very much the same and should be preserved at all costs.
How would you curate the Dartmouth brand?
In the fashion world, if I'm Tommy Hilfiger, the worst thing I can do is to try to compete with Calvin Klein by replicating all its brand codes, marketing messages, and design assets, trying to become Calvin Klein 2.0. The best thing I can do is ask, what makes Tommy Hilfiger special? Then, double down on those unique assets.
Dartmouth is never going to compete successfully against Yale at what Yale does best or against Princeton at what Princeton  does best. But there is no school that can compete with what Dartmouth does best. For example, no other campus in the world can "own" the magnificence of the White Mountains. In a day and age when environmental toxicity is so top of mind for most educated people, to be in such a pure and clean environment is something that Harvard, Yale, and most other schools can't begin to compete with.
So the College should promote its location more?
At a minimum, Dartmouth should stop apologizing for its location. I think the remoteness, uniqueness, and exquisiteness of its location are real assets. Think about how it feels to be in Hanover in the heart of the New England countryside, the majestic quality of nature, the Georgian Revival-style architecture, and the Green. You have to find ways to imbue those images with the feelings they evoke, even for people who are not physically on campus. That takes imagination, artistry, and empathy. People who have gone there are the best conveyors. It's a passion I still feel. Notwithstanding my misfit experiences, I still love the place.                                        
Kermit Pattison is a writer in St. Paul, Minnesota.