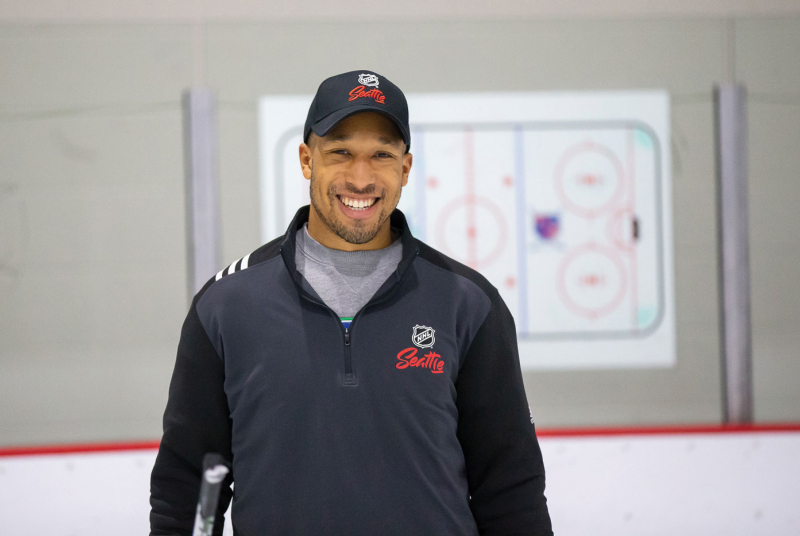 Puck Promoter
Seattle NHL franchise hires Kyle Boyd '12 as an ambassador.
On a chilly Saturday in March, the NHL's "Black Hockey History Tour" rolled into its 13th city and newest market: Seattle. The tricked-out tractor-trailer, parked outside the Northwest African American Museum, sported life-sized posters, memorabilia, and highlight reels of the game's black stars and pioneers.
Boyd, who skated for his Minnesota high school and later captained Dartmouth's club team, knows what it's like to be one of the lone players of color on the ice. Inside the truck, a small boy pulled on a pair of youth hockey gloves, stepped up to a blown-up game photo, and gleefully pounded it with his fists. 
"However they come to the game is good by me," says Boyd. As the director of youth and community development for the NHL's 32nd franchise (an expansion team scheduled to begin play in 2021), the former history major is leading the effort to generate local youth interest and hockey programs. He helped bring the exhibit to Seattle's historically black Central District. He greeted families, introduced museum volunteers, and steered kids to a playground area with street-hockey nets and sticks and balls. He has become a public face of the new franchise's commitment to community building. 
"Kyle is incredibly committed to service," says Mari Horita, the club's vice president of community engagement and philanthropy. "He's a former teacher who happens to be a great hockey player working in a sport trying to become more inclusive and reflective of society. You couldn't find a better person for what we're trying to do." 
Boyd is defining the job as he goes. "It's not only about building the fan base," he says. "It's about reducing barriers and making a great sport accessible to more people in our community."