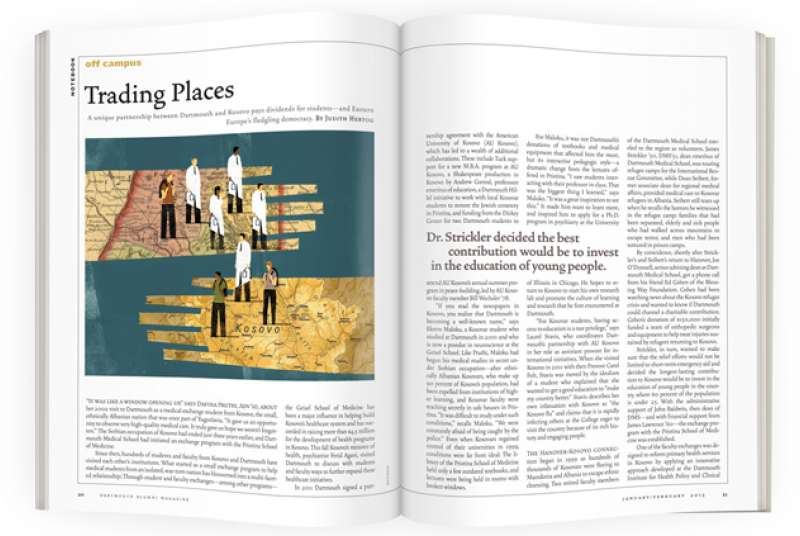 Trading Places
A unique partnership between Dartmouth and Kosovo pays dividends for students—and a fledgling democracy.
"It was like a window opening up," says Dafina Pruthi, Adv'10, about her 2002 visit to Dartmouth as a medical exchange student from Kosovo, the small, ethnically Albanian nation that was once part of Yugoslavia. "It gave us an opportunity to observe very high-quality medical care. It truly gave us hope we weren't forgotten." The Serbian occupation of Kosovo had ended just three years earlier, and Dartmouth Medical School had initiated an exchange program with the Pristina School of Medicine.
Since then, hundreds of students and faculty from Kosovo and Dartmouth have visited each other's institutions. What started as a small exchange program to help medical students from an isolated, war-torn nation has blossomed into a multi-faceted relationship: Through student and faculty exchanges—among other programs—the Geisel School of Medicine has been a major influence in helping build Kosovo's healthcare system and has succeeded in raising more than $4.5 million for the development of health programs in Kosovo. This fall Kosovo's minister of health, psychiatrist Ferid Agani, visited Dartmouth to discuss with students and faculty ways to further expand these healthcare initiatives.
In 2011 Dartmouth signed a partnership agreement with the American University of Kosovo (AU Kosovo), which has led to a wealth of additional collaborations. These include Tuck support for a new M.B.A. program at AU Kosovo, a Shakespeare production in Kosovo by Andrew Garrod, professsor emeritus of education, a Dartmouth Hillel initiative to work with local Kosovar students to restore the Jewish cemetery in Pristina, and funding from the Dickey Center for two Dartmouth students to attend AU Kosovo's annual summer program in peace-building, led by AU Kosovo faculty member Bill Wechsler '78.
"If you read the newspapers in Kosovo, you realize that Dartmouth is becoming a well-known name," says Ekrem Maloku, a Kosovar student who studied at Dartmouth in 2001 and who is now a postdoc in neuroscience at the Geisel School. Like Pruthi, Maloku had begun his medical studies in secret under Serbian occupation—after ethnically Albanian Kosovars, who make up 90 percent of Kosovo's population, had been expelled from institutions of higher learning, and Kosovar faculty were teaching secretly in safe houses in Pristina. "It was difficult to study under such conditions," recalls Maloku. "We were constantly afraid of being caught by the police." Even when Kosovars regained control of their universities in 1999, conditions were far from ideal: The library of the Pristina School of Medicine held only a few outdated textbooks, and lectures were being held in rooms with broken windows.
For Maloku, it was not Dartmouth's donations of textbooks and medical equipment that affected him the most, but its interactive pedagogic style—a dramatic change from the lectures offered in Pristina. "I saw students interacting with their professor in class. That was the biggest thing I learned," says Maluko. "It was a great inspiration to see this." It made him want to learn more, and inspired him to apply for a Ph.D. program in psychiatry at the University of Illinois in Chicago. He hopes to return to Kosovo to start his own research lab and promote the culture of learning and research that he first encountered at Dartmouth.
"For Kosovar students, having access to education is a rare privilege," says Laurel Stavis, who coordinates Dartmouth's partnership with AU Kosovo in her role as assistant provost for international initiatives. When she visited Kosovo in 2011 with then Provost Carol Folt, Stavis was moved by the idealism of a student who explained that she wanted to get a good education to "make my country better." Stavis describes her own infatuation with Kosovo as "the Kosovo flu" and claims that it is rapidly infecting others at the College eager to visit the country because of its rich history and engaging people.
The Hanover-Kosovo connection began in 1999 as hundreds of thousands of Kosovars were fleeing to Macedonia and Albania to escape ethnic cleansing. Two retired faculty members of the Dartmouth Medical School traveled to the region as volunteers. James Strickler '50, DMS'51, dean emeritus of Dartmouth Medical School, was touring refugee camps for the International Rescue Committee, while Dean Seibert, former associate dean for regional medical affairs, provided medical care to Kosovar refugees in Albania. Seibert still tears up when he recalls the horrors he witnessed in the refugee camp: families that had been separated, elderly and sick people who had walked across mountains to escape terror, and men who had been tortured in prison camps.
By coincidence, shortly after Strickler's and Seibert's return to Hanover, Joe O'Donnell, senior advising dean at Dartmouth Medical School, got a phone call from his friend Ed Cohen of the Blessing Way Foundation. Cohen had been watching news about the Kosovo refugee crisis and wanted to know if Dartmouth could channel a charitable contribution. Cohen's donation of $150,000 initially funded a team of orthopedic surgeons and equipment to help treat injuries sustained by refugees returning to Kosovo.
Strickler, in turn, wanted to make sure that the relief efforts would not be limited to short-term emergency aid and decided the longest-lasting contribution to Kosovo would be to invest in the education of young people in the country, where 60 percent of the population is under 25. With the administrative support of John Baldwin, then dean of DMS—and with financial support from James Lawrence '60—the exchange program with the Pristina School of Medicine was established.
One of the faculty exchanges was designed to reform primary health services in Kosovo by applying an innovative approach developed at the Dartmouth Institute for Health Policy and Clinical Practice. After observing that Kosovo suffered the highest infant-mortality rate in Europe, Strickler initiated a program to improve antenatal and neonatal care, supported by the Global Development Alliance that brought together Dartmouth, the financial consulting firm Webber Associates, and AmeriCares, a private nonprofit run by Curtis Welling '71, Tu'77. With Strickler's leadership, the program has evolved into a Kosovo-based nonprofit, the Foundation for Healthy Mothers and Babies.
In March 2012 Kosovo president Atifete Jahjaga visited Dartmouth to present Strickler with the Humanitarian Medal of Mother Teresa.
Folt, now Dartmouth's interim president, is personally connected to the region through her mother's Albanian family. She foresees opportunities for additional projects in Kosovo, such as collaboration with President Jahjaga to promote women's leadership and further academic exchanges. She sees the relationship with Kosovo as a "two-way learning experience" and emphasizes that for Dartmouth students and faculty this is a rare chance to observe firsthand the development of an emerging democracy.
"Dartmouth has played an enormous role in the rebuilding of the health sector in Kosovo," says Ilirjane "Lili" Bajraktari, Adv'14, the second medical exchange student from Kosovo to arrive at Dartmouth for a two-month summer term in 2000 and now a member of the foundation's board. She is also enrolled in Dartmouth's master of healthcare delivery science program.
"My generation was basically hermetically isolated during the occupation," Bajraktari says. Her term at Dartmouth connected her to the larger world of medicine and showed her what the role of healthcare professionals can be in society, she adds.
Dartmouth has also inspired Kosovar students such as Gent Salihu '11 to pursue careers outside healthcare. Salihu applied to Dartmouth unaware of the relationship between the College and his country. A government major, he was hired as an advisor to Jahjaga upon his graduation and assigned the task of helping create a council to tackle corruption in the public sector. He is now pursuing graduate studies at Oxford.
Fjolle Metag, the first AU Kosovo student to attend Dartmouth on a student exchange, during the summer of 2012, is focused on education. "Kosovo needs a better system," she says. "To establish a democratic country it takes a culture in which people understand the concepts of democracy."
Metag first dreamed of attending Dartmouth when she was in high school, reading about the College on the Internet. When Stavis visited AU Kosovo in the fall of 2011, Metag approached her to ask about opportunities for an exchange visit. When Metag was allowed to enroll in two government courses, she packed a copy of the Kosovo constitution—and an endearing supply of idealism. She recounts her fellow students questioning why it would be in the interest of the United States to donate to developing countries. "Guys," she responded, "you have no idea how much the people in Kosovo love America." She realizes that Kosovo still has a long way to go, but says her experience at Dartmouth has taught her that nothing is impossible. "I thought I would never be a part of Dartmouth…but here I am," she says with a bright smile. "It'll be the same for Kosovo: Dreams do come true."
Judith Hertog is a regular contributor to DAM. She lives in Norwich, Vermont.