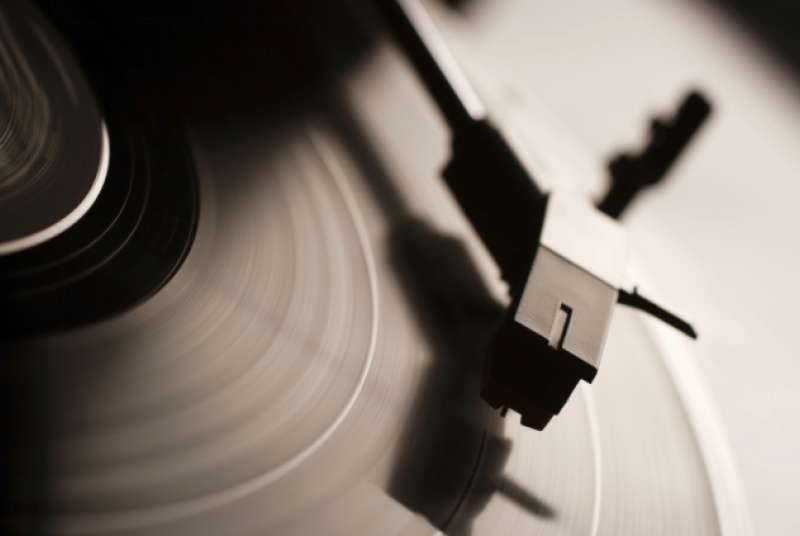 Spinning at Night
African-American DJs at WDCR brought new sounds to Upper Valley ears.
Just as the United States changed during the last 50 years, Dartmouth and its AM radio station, WDCR, changed as well. The combination of the College admitting an increased number of African-American students in the late 1960s and becoming coed in the early 1970s made it possible for me to attend the school in the early 1980s. Many of us who were students during this time were from urban areas and, as a result, quite a few of us experienced culture shock in Hanover. Among the various differences between home and Hanover was that the music we enjoyed wasn't played often, if at all, on local radio stations. So our vinyl records became our lifeline to the familiar sounds of home.
During my senior year in high school I went to visit a friend on a college campus where she was a DJ. After spending time with her at the radio station I decided I wanted to do the same thing. As soon as I hit the campus freshman week in 1981 I went directly to WDCR to sign up to get my FCC license. After getting my license, I had the opportunity to DJ on the evening show slotted for "urban contemporary" music.
In the 1980s this show aired Sunday through Friday from 9 p.m. to midnight. It was originally named the Blackside Show, but realizing that it could be mistakenly referred to as the "Black Sideshow," we changed the name to Nightflight for a brief period before finally settling on PM Dimensions. This reflected our late-night time slot and the breadth of music we played, which included reggae, steel band, R&B, blues, soul, rap, hip-hop, house and jazz.
We had latitude to create a distinctive show that reflected our individual personalities and tastes in music. Most of the PM Dimensions DJs played music from their personal vinyl record collections. For example, I played R&B, jazz, blues, soul and house music, which were popular in my hometown of Chicago. Alan Bond '83, Todd Cranford '85, Scorpio Rogers '85 and Timothy Michael '85—who all came from New York City—played everything from rap to hip-hop to jazz to steel band.
Cathy Bagley '82, DMS'86, felt empowered by the ability to select her own music to play at a professional station. "It was fantastic to be a part of a completely student-run radio station that competed with the commercial stations in the area," she says.
Many of us created "radio names," such as "Shelly D" (my moniker), "The Fonz" (Alphonso Croom '79), "Cat Bags" (Bagley), "The Mixologist" (Bond), "Mr. TLC" (Cranford), "The Rasta Mon" (Michael) and "The Troll of Soul" (Bob Ponce '80).
We had such a great time hosting our shows that a few DJs extended their hours on air and hosted shows that aired after midnight. Rogers hosted a show called Club Music from midnight to 2 a.m., playing music that was not available elsewhere in the Upper Valley. There were also other segments such as Pillow Talk, hosted by Joy Anderson '85, which featured slow, romantic jams.
In addition to spinning, scratching and mixing records on the air, which was itself a novelty in the Upper Valley, we took requests and opened the telephone line to send dedications to people. Our talents were also in demand at campus parties, where we periodically DJ'd together at fraternities, the Hopkins Center and Cutter Hall (affectionately known as "The AAM").
"We recognized the diversity we brought to Hanover," says Croom. "I received a number of calls from local residents who had never heard some of 'our' music. In particular, I recall a man calling me after I played a song by the Moments to tell me that he had never heard a song like that before and that he looked forward to hearing more."
Our common experience has created a bond, regardless of when we attended Dartmouth. Even those who have met only as alums know we have something special between us. When I first met Anthony "T.K." Lotson '81, our exchange included sharing our experiences on WDCR. This bond forged a friendship that has lasted more than 30 years.
Although we had a lot of fun working on the radio show, at times many of us felt we did not get the same level of support or promotion that other shows received. "Back in my day it was funny how our music seemed like an afterthought by the station," says Lotson. "Unlike some other DJs, we supplied our own music, which meant trudging across campus with tons of heavy records."
Although I was a DJ from 1981 to 1983, the show got its roots in the late 1960s because of the efforts of students such as Wallace Ford '70 and Thomas Parker '69. They were able to secure some airtime on WDCR and began to share music from their record collections with fellow students, as well as the Upper Valley. During these early days the DJs played music that featured different beats, rhythms and sounds when they could get air time—sometimes into the wee hours. Due to the lack of solid support, and quite likely an appreciation for the music, their shows aired at different, unpredictable times, making it hard for their growing fan base to keep up with them. Despite this challenge, the "urban" music they played gained popularity. "Those days were fun, but radio could also be very serious as well," says Ford. One memorable example was April 4, 1968, the day Dr. Martin Luther King Jr. was assassinated. Ford recalls dashing to the station and "commandeering" the broadcast booth in order to talk about the importance of Dr. King's death.
Despite the challenges, we all agree that being a part of WDCR was a great experience and privilege. We learned how to manage our time while juggling demanding classes and other extracurricular activities, impart information to an audience, plan a program and create public personalities that reflected our individuality. Cranford feels that being part of PM Dimensions provided him the perfect platform to be able to share a little of his culture and connect with people in ways that were unique and interesting. "It was also a great way to learn how to shape my own individual show that exposed people in the Upper Valley to music they might not have heard otherwise," adds Rogers.
I do not have a complete list of all of the nighttime DJs from the past 50 years, but a handful of the radio personalities during a 25-year span include Bill Jacobs '73, Ben Bridges '74, Richard Jones '75, Carl Richardson '75, Cruz Russell '75, Jimmy DeFrantz '79, Lonnie Staley '85, Garth Adams '87, Ed O'Garro '88, Dionne Greene '89, Tauvia Frank '89, Neisha Powell '95, J.R. Riddick '95 and Peter Alphonso '96. Everyone who was a DJ on WDCR is part of a radio family that will continue to grow, and one of these days a comprehensive history of our contributions to the station will be written.
In these past 50 years, a few of the WDCR DJs have had radio careers, including Adams, an on-air personality and station general manager in Ohio. Most of us, however, have gone on to work in business, law, medicine, writing, editing and education. Most of us have maintained our appreciation of music by continuing to DJ for fun or by creating other work that includes music. Despite our divergent career paths, in our hearts we will always be DJs who shared our cultural heritage to educate and entertain people.
     Click on the tracks below to hear a sample of the musical styles played by the author and fellow DJ Todd Cranford during their tenure at WDCR.
     Ramsey Lewis Trio - The "In" Crowd
     Koko Taylor - I'm a Woman
     Buddy Guy - You've Been Gone Too Long
     Buddy Guy - Watch Yourself
     Earth, Wind & Fire - Reasons
     Patrice Rushen - Haven't You Heard
     Heatwave - Always and Forever
     Stephanie Mills - Never Knew Love Like This Before
     Junior - Mama Used to Say
     Rick James - Super Freak
     Thelonious Monk - 'Round Midnight
     Spyro Gyra - Morning Dance
Michelle Duster is a writer and public speaker who coauthored a 2014 children's history book, Tate and His Historic Dream. Based in Chicago, she conducts classes and workshops in writing and publishing. Todd Cranford also contributed to this article. He is a Washington, D.C.-based attorney who has had a 20-year career in the financial services sector and currently serves as the director of government relations for a nonprofit.