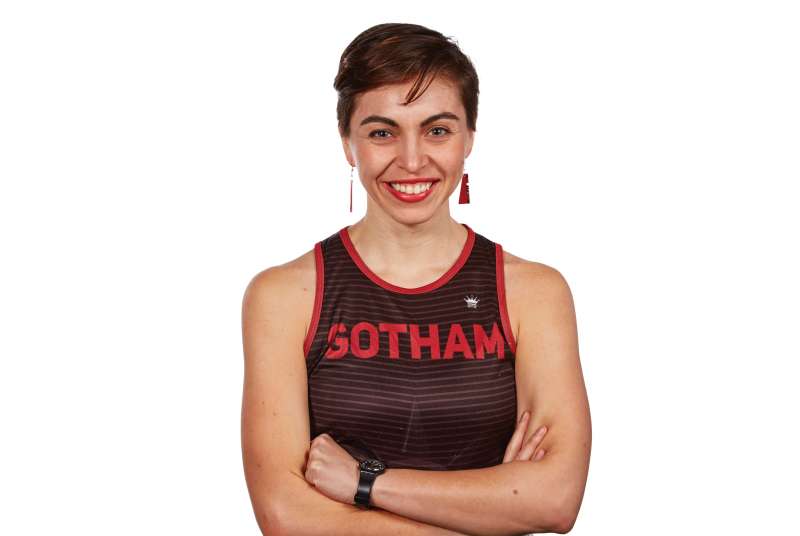 Let's Roll
Brooklyn Bombshells skater Daryl Concha '11 leads the pack around the track.
One weekend in summer 2012 Concha was strolling the Coney Island boardwalk with a friend when someone tossed her a flyer promoting a roller derby double-header later that afternoon. Concha checked out the bouts, and she was hooked. Two weeks later she bought a pair of skates and entered the basic training program of the Gotham Girls Roller Derby league.
Today Concha is captain of the 2017 league champion Bombshells. After a long day of coding software, she dons helmet and pads and joins her teammates on the flat track, where they score points by lapping members of the opposing team. She also skates for the Gotham Girls All-Stars, who regularly compete in front of sold-out crowds around the country and finished last season as the third-ranked team in the world. "This isn't the same roller derby people saw on TV in the past," says Concha. "It's not just fishnets and throwing elbows and show. It's all very real."
Concha, a member of the Taos Pueblo tribe, joined 20 other women from indigenous communities around the globe at the Roller Derby World Cup in Manchester, England, last February. "We had never skated together before," says Concha, who was recruited via Facebook and stayed in touch with the team through email and video chats in the months leading up to the competition. Her team didn't place at the world cup—it finished 27th—but her performance made headlines in a sport whose athletes are mostly white. "There's a place for everybody within roller derby," says Concha.    
Photo by Jean Schwarzwalder