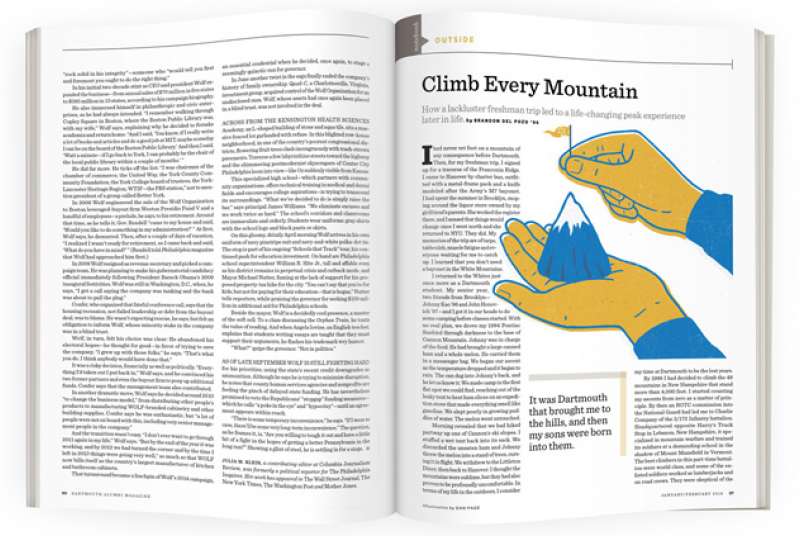 Climb Every Mountain
How a lackluster freshman trip led to a life-changing peak experience later in life.
I had never set foot on a mountain of any consequence before Dartmouth. Then, for my freshman trip, I signed up for a traverse of the Franconia Ridge. I came to Hanover by charter bus, outfitted with a metal-frame pack and a knife modeled after the Army's M7 bayonet. I had spent the summer in Brooklyn, moping around the liquor store owned by my girlfriend's parents. She worked the register there, and I sensed that things would change once I went north and she returned to NYU. They did. My memories of the trip are of tarps, tabbouleh, muscle fatigue and everyone waiting for me to catch up. I learned that you don't need a bayonet in the White Mountains.
I returned to the Whites just once more as a Dartmouth student. My senior year, two friends from Brooklyn—Johnny Kao '96 and John Honovich '97—and I got it in our heads to do some camping before classes started. With no real plan, we drove my 1984 Pontiac Sunbird through darkness to the base of Cannon Mountain. Johnny was in charge of the food. He had brought a large canned ham and a whole melon. He carried them in a messenger bag. We began our ascent as the temperature dropped and it began to rain. The can dug into Johnny's back, and he let us know it. We made camp in the first flat spot we could find, reaching out of the leaky tent to heat ham slices on an expedition stove that made everything smell like gasoline. We slept poorly in growing puddles of water. The melon went untouched.
Morning revealed that we had hiked partway up one of Cannon's ski slopes. I stuffed a wet tent back into its sack. We discarded the uneaten ham and Johnny threw the melon into a stand of trees, cursing it in flight. We withdrew to the Littleton Diner, then back to Hanover. I thought the mountains were sublime, but they had also proven to be profoundly uncomfortable. In terms of my life in the outdoors, I consider my time at Dartmouth to be the lost years. 
By 1998 I had decided to climb the 48 mountains in New Hampshire that stand more than 4,000 feet. I started counting my ascents from zero as a matter of principle. By then an ROTC commission into the National Guard had led me to Charlie Company of the 3/172 Infantry battalion. Headquartered opposite Harry's Truck Stop in Lebanon, New Hampshire, it specialized in mountain warfare and trained its soldiers at a demanding school in the shadow of Mount Mansfield in Vermont. The best climbers in this part-time battalion were world class, and some of the enlisted soldiers worked as lumberjacks and on road crews. They were skeptical of the Ivy League. Long gone were the days when Dartmouth graduates trained the nation's ski troops. It helped my credibility that after graduation I had become a New York City cop. The unit gave me the judgment and skills necessary to navigate rugged peaks with a margin of safety.
My vacations during the next decade and a half consisted mostly of multiday assaults throughout New England. There were incidents, such as when a misstep broke my knee on Vermont's Camel's Hump in 2009, and I had to be carried off by a rescue crew. After all the miles many things blur, but a handful of memories will always be with me: the utter quiet when you stop moving in snow, the gray jays that eat from your hand in midwinter, the smell of pine in all seasons and the sound of your bindings as you ski uphill, alone through starving winter forests. And the unbearable ache you feel when frozen fingers first start to thaw while clenched into fists in your mittens.
If you saw dozens of people on a mountain on a summer weekend, you might see six climbing it in winter, or sometimes just one, or you might not see another soul the whole time. With many days that hover at zero degrees and just get colder as you ascend, the season demands a higher level of skill and commitment. So I came to prefer the peaks in winter, but that often meant making grand plans and then circumscribing them as cold winds blew in the storms. I built up a decade of Accidents in North American Mountaineering (published annually by the American Alpine Club) as bathroom reading to remind me of what happens when you exceed your abilities.
The results of cautious retreats were the odd mountains that remained. Mount Monroe was one of the ones I had circled around, having backed off in sight of it during a storm, down to the shelter of the Dry River Wilderness. I finally ascended it in February of  2013. The conditions required full alpine gear. Clouds were pinned to the range and voices carried well beyond sight. I could hear men in the distance. A group on a guided trip materialized before me, close before they were visible. They carried themselves tentatively, nervous in the fog. The guide and I talked about weather conditions and what a realistic plan for the day might look like. As I strode off I was finally certain that I had become a Northeast winter mountaineer. 
This August I finished the 48. My son, Zane, 7, was with me. My last two were his first. One was Mount Isolation. The hike is nearly 15 miles long and partly follows trails that the U.S. Forest Service no longer maintains. This is why I had saved it for the end. It's amazing what you can get a boy to do when you promise to buy him the small stuffed dog he's been pining for. In 12 hours of hiking we covered the full range of life from creation to mortality along with extensive talk about the dog. His questions made me wonder how much I was willing to tell a boy about life. We ended the hike in the darkness holding hands, wearing headlamps, searching diligently for the exact rock he'd earlier left on a log with a promise to retrieve it. I think we did. 
My last summit was Galehead. I had intended to climb it in 2008, but, sidelined with a sprain on the way over from North Twin, I watched a friend head up the summit cone alone. The forested peak is a viewless dead end. Zane and I stumbled upon it without realizing we had gotten there. All this metaphor began to weigh on me until my son started talking about his plans for the 48, about how this was his No. 2, about how he would climb the others and then the ones in the Adirondacks. I then understood that in the course of climbing these mountains, they become one of your legacies.
These days I live in northern Vermont, at the foot of the Green Mountains, an equal distance from the Whites and the Adirondacks. My home is the third step in a northward progression out of New York City. Sometimes I wonder how I got here. At first it may have been to prove something to myself, but that idea seems as though it's from another life. It is because, since my first sight of these mountains, I have simply never seen things more magnificent.
I could not have anticipated that my freshman trip in 1992 would have inspired in me something that would set the course of where I would live, how I would spend my time and how I would raise my children. They move over rock and snow toward summits and it feels natural to them. They will make trips to the alpine zone on skis and snowshoes, leading others, perhaps my grandchildren. It was Dartmouth that brought me to the hills, and then my sons were born into them.
Brandon del Pozo, an 18-year veteran officer of the New York City Police Department, is the chief of police of Burlington, Vermont.