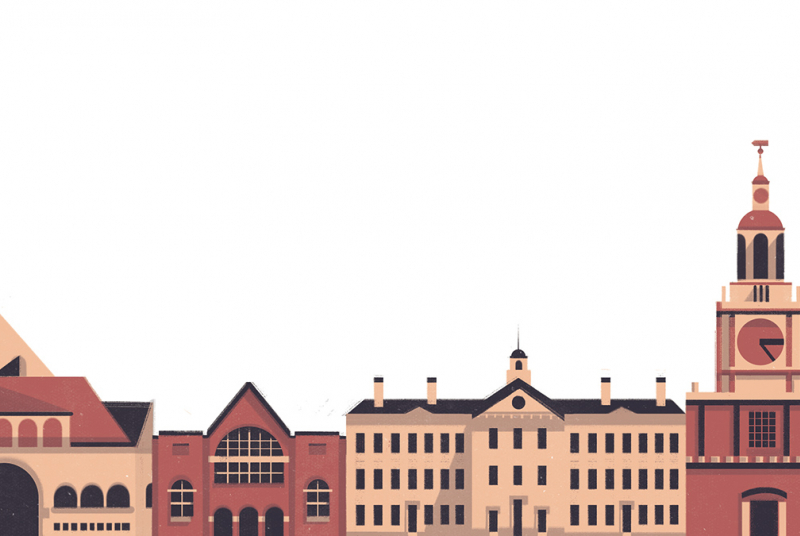 Campus Confidential
At Last
The class of 2020 will finally celebrate its Commencement with a weekend of activities August 5-7, 2022.
Kudos
Professor Peter Orner, director of the creative writing program, had a new short story published by The New Yorker. "Barbara, Detroit, 1966" ran in August.
Pranked!
Somehow a mounted deer head found its way from Zeta Psi into a third-floor room at Bones Gate during the summer.
Gone Too Soon
Engineering professor Stuart Trembly, Th'83, died in July following a stroke. He was 67.
Backlash
Some alumni, students, and faculty have called for the College to change the name of the Black Family Visual Arts Center, namesake of former trustee Leon Black '78. The investor is embroiled in controversy regarding his ties to Jeffrey Epstein and faces a defamation and sexual harassment lawsuit from a former mistress.
Top Doc
Duane Compton has been reappointed to another four-year term as dean of the Geisel School of Medicine. 
Waitlisted
Three of the most popular courses during Sophomore Summer were "Classical Mythology," "Exploration of the Solar System," and "Ecological Agriculture." 
Christened
The giant athletics building near the Boss Tennis Center has a new name: Graham Indoor Practice Facility.
Food Swipes
Thieves continue to target takeout orders left near the entrance of Tuk Tuk Thai Cuisine in Hanover. 
Grounded
Climbing team members have expressed frustration at the continued closure of the climbing gym. The facility is expected to remain closed this fall as officials assess the need for renovations.
Out of This World
Thayer School of Engineering nabbed $1.25 million in grants to study icy planets in our solar system.
For Art's Sake
The Hood Museum finally reopened on August 4.
Fit to Print
Matthew Olzmann, a senior lecturer in the English department, had his poem, "Letter to a Bridge Made of Rope," published in The New York Times in July. Olzmann is releasing a new collection of poems in 2022.
Munchies
Dining services has expanded its offerings and hours. Some snack bar locations are now open until 2 a.m.
His Aim Is True
Placekicker Connor Davis '22 converted 49 consecutive extra points before missing one early this season. 
Facing Facts
Students didn't care for the return of the College's indoor-mask-wearing mandate prior to the start of the fall term. Professors, on the other hand, didn't mind at all.
Background Check
The class of 2024 had its photo taken—but not in front of Dartmouth Hall, which is under renovation. Students struck their pose instead on Baker lawn.