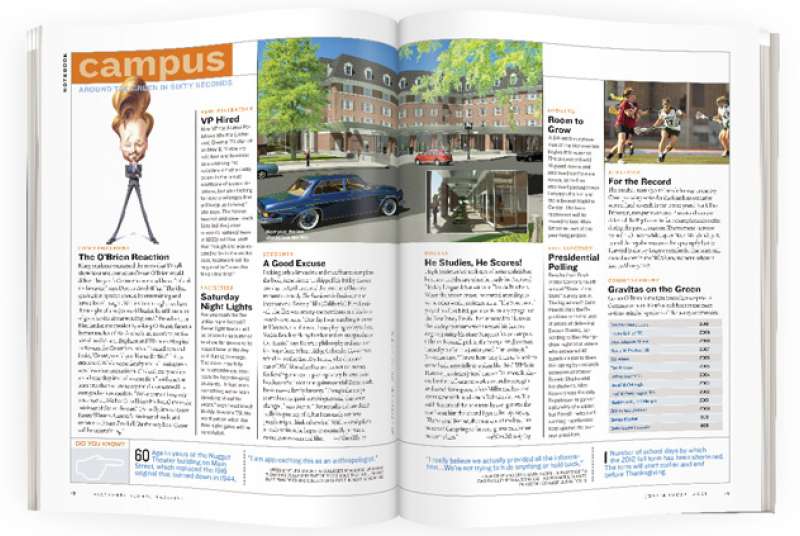 Campus
Around the Green in sixty seconds
Commencement
The O'Brien Reaction
Many students welcomed the news that TV talk show host and comedian Conan O'Brien would deliver this year's Commencement address. "I think it's fantastic," says Dennis Zeveloff '12. "The ideal graduation speaker should be entertaining and have a lot of insight. While Conan might not have the insight of a major world leader, he still has a lot of great advice about working hard." President Jim Kim landed the speaker by asking O'Brien's father, a former teacher of Kim's who is an associate professor of medicine at Brigham and Women's Hospital in Boston, for Conan's number. "I called him and I said, 'Conan, would you like to do this?' " Kim explained. While some faculty and administrators were less than enthusiastic ("I don't really understand why they invited a comedian," said one), at least one alum wrote to say the choice topped his own graduation speaker: "We've come a long way since 1967….We had (God bless his heart) the trade minister of Saskatchewan." (Actually, it was Robert Henry Winters, Canada's minister of trade and commerce.) Says Zeveloff: "At the very least Conan will be entertaining."
Administration
VP Hired
New VP for Alumni Relations Martha (Johnson) Beattie '76 started on May 9. "I view my role first and foremost as sustaining the excellence that already exists in the proud traditions of alumni relations, but also looking for new challenges that will keep us thriving," she says. The former teacher and crew coach (she led the junior women's national team in 1983) told her staff that though she was excited to be in the stroke seat, teamwork will be required to "cross the finish line first."
Saturday Night Lights
Are you ready for Saturday night football? Seven light towers will be erected this summer to allow for games to be played later in the day and during evenings. The move may help with attendance, especially for late-sleeping students. "It has been something we've been speaking about for years," says head coach Buddy Teevens '79. No word yet on when the first night game will be scheduled.
students
A Good Excuse
Lacking only a limousine and chauffeur to complete the look, Kane Kunz '11 skipped his Friday classes one day in April to attend the premier of his new romantic comedy, The Frankenstein Brothers, at the International Beverly Hills (California) Film Festival. The film was among the nominees at a black-tie awards ceremony. "One day I was watching it snow in Hanover, and the next I was playing volleyball on Venice Beach with my brother and co-star/producer Cru Ennis," says Kunz, a philosophy and economics major from Wheat Ridge, Colorado. Co-written with his brother Lee Roy Kunz, who dropped out of USC film school to use his tuition money for funding, the coming-of-age story follows twin brothers who inherit the quintessential Dartmouth business—a family brewery. "Though the script started out as quasi-autobiographical, that soon changed," says Kunz. "Dartmouth's culture didn't really inspire any of it, but I can easily see how people might think otherwise." With several pilots already written, he hopes to eventually pursue a career in television and film.
He Studies, He Scores!
Hugh Jessiman '06 took care of some unfinished business in February when he made his National Hockey League debut with the Florida Panthers. When the season ended, he started attending to some other work. Jessiman, a.k.a. "The Specimen," played his first NHL game on February 27 against the New Jersey Devils, then returned to Hanover this spring to resume work toward his history degree, joining his sister Margaret '12 on campus. (The 12th overall pick in the 2003 draft, Jessiman turned pro after his junior year.) "I'm loving it," Jessiman says. "I know how lucky I am to be able to come back, especially to a place like this." While in Hanover, Jessiman joined current Dartmouth players for their off-season workouts under strength and conditioning coach Bob Miller and has also spent time with head coach Bob Gaudet '81."He said that one of the best texts he ever got was the one I sent him the second I got called up, saying 'Thank you.' For me, that was one of the best moments of the spring so far, seeing how much that meant to him."
Room to Grow
A $14-million renovation of the Hanover Inn begins this summer. The project will add 16 guest rooms and improved conference space, as well as improved passageways between the Inn and the adjacent Hopkins Center. The Inn's restaurant will be moved to face Main Street as part of the year-long project.
Presidential Polling
Results from Rockefeller Center's fourth annual "State of the State" survey are in. The big winner? Colin Powell. He's the Republican with the best chances of defeating Barack Obama, according to New Hampshire registered voters who answered 43 questions put to them this spring by research associate professor Ronald Shaiko and his students. Mitt Romney was the only Republican to garner a plurality of support, but Powell—who isn't running—performed best against the current president.
For the Record
The baseball team (30-12) made its way to the Ivy Championship series for the fourth consecutive season (and seventh in the last 12 years) but fell to Princeton, two games to one. Princeton has now defeated the Big Green in four championship series during the past 11 seasons. The women's lacrosse team (11-4), meanwhile, upset No. 1 Maryland, 9-8, to end the regular season—then promptly lost to Harvard in the Ivy League semifinals. The team still earned a spot in the NCAA tournament, where it lost to Albany, 10-7.
Gravitas on the Green
Conan O'Brien is the first comedian to speak at Commencement. Here's a look back at the more serious-minded speakers of the last 13 ceremonies: