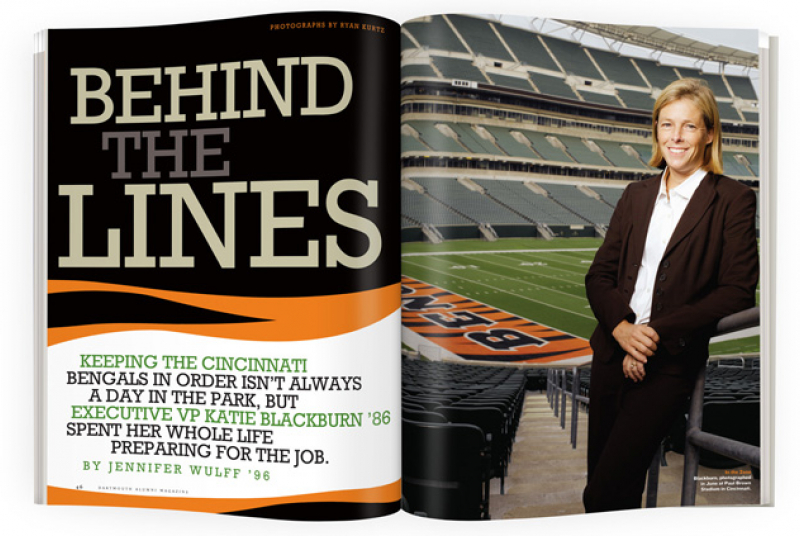 Behind the Lines
Cincinnati Bengals executive VP Katie Blackburn '86 spent her whole life preparing for the front office job.
As the granddaughter of the team's founder, Katie (Brown) Blackburn was a loyal Cincinnati Bengals fan from an early age, tagging along with her dad to games and cheering from the sidelines—in rain or shine or even extreme cold. "I remember bringing her to the stadium for what became known as the Freezer Bowl," says her father, Mike Brown '57, the team's then assistant general manager under his own dad, Bengals founder and NFL legend Paul Brown. "The temperature was something like 40 below zero and she was out there before the game [the 1981 AFC championship] like it was 70 degrees out, hanging all these banners she had made from our bedsheets. She didn't quit until they were all up."
Although creating signage in the basement isn't among her primary duties now, Blackburn, 43, still weathers plenty of challenges in her job as executive vice president of one of the few remaining family-owned NFL franchises. She oversees all aspects of the business, from marketing to ticket and suite sales, IT and finance and, of course, negotiating contracts and staying on top of the salary cap. "I majored in math and economics at Dartmouth, and I think salary cap issues are exactly what the degree was for, right?" she says. "It actually isn't that hard. There are a lot of rules about what you're allowed to do and what you're not allowed to do, but the best rule I have is that if it gets too complicated I just start over and make it more simple. The money's the money."
This year financials matter even more to the front office. Game tickets for the upcoming season normally sell out by late spring, but "this is the first time in several years that we still have tickets available," says Blackburn. Suite sales to local businesses have also suffered a slump and future ad revenue is another worry. "Ultimately it will affect player salaries," she adds, remarking on the fact that while everyone else in the country is happy just having a job in this troubled economy, NFL players are still looking for increases. "It may take longer because so many contracts were already in place, but there's no question."
Hoping to get some good exposure for the team, which suffered an eight-game losing streak at the start of last season and finished with a 4-11-1 record, Blackburn and her family signed a deal with HBO's Hard Knocks. The series, which has featured the Dallas Cowboys, the Kansas City Chiefs and the Baltimore Ravens in the past, premiered August 12 and provides viewers an inside look at coach Marvin Lewis and his team at training camp. "We thought it would be a good opportunity," says Blackburn. "We have a lot of guys at a level that people nationally might have some interest in, and good PR is of course a part of it."
The team, which has become better known for players' off-field antics than for winning on Sundays, could use some positive coverage. Seventeen Bengals on the roster have had run-ins with the law, with charges ranging from spousal battery (Frostee Rucker) to DUI, possession of firearms, possession of marijuana and supplying alcohol to minors (all those are on wide receiver Chris Henry's rap sheet). Blackburn herself agrees it's not ideal to employ players whose personal behavior is less than stellar, but it's their performance on game day that really matters. "It boils down to a guy being reliable on the field," she says. "Certainly you never want to hire someone who's going to cause issues, but you also want to give these guys a chance."
Times have changed since former Cleveland Browns coach and GM Paul Brown, who died in 1991, started the team in 1967. He was known for prizing brains above brawn, and he recruited accordingly. But, says Blackburn, "the playing field probably is a little different now than it was back then. I can't say for sure how he'd feel now." Certain, however, is that they share a common goal: "He wanted to get the best out of the group of players he had and so do we."
As a tribute to her grandfather the family didn't sell the naming rights when a new stadium for the Bengals was built in 2000. Instead they named it Paul Brown Stadium—and received plenty of praise from local fans as a result. "I'm not against naming rights, but we wanted to properly honor him," says Blackburn. "He did so much for the NFL and represents so many positive ideals and what football should be about." Keeping the business in the Brown family also remains a priority. Joining Blackburn and her father (team owner) in the front office are her husband, Troy Blackburn (vice president), her uncle Pete Brown (senior vice president of player personnel) and her younger brother Paul Brown (vice president of player personnel). "Do we sometimes bicker in a way that isn't how you'd talk to a coworker? Yes, I have to be honest along those lines, but I consider myself extremely fortunate to work with my family," she says.
This summer her oldest daughter, Elizabeth, 16, became the first fourth-generation Brown to work for the Bengals, serving as an assistant to her mother. Still, Blackburn doesn't want to put any pressure on either Elizabeth or her sister Caroline, 14, to join the family business, even though she admits that "nothing would be more fun." Her father encouraged Katie to pursue a career outside the team before he asked her to come aboard. So after Dartmouth she earned her law degree at the University of Cincinnati and practiced with a local firm for two years. "It was a good experience for her to do something different, but I could tell her heart was here," says Mike Brown, who was a Harvard-schooled lawyer himself before choosing his own dad's path. "And we've been at it together ever since."
He calls his daughter a natural athlete. "I'd take her to watch me run at the track when she was about 3, and lo and behold she started running behind me one day and ran and ran for a whole mile," he says. "She just saw what was supposed to be done and did it." At Dartmouth Blackburn proved to be just as determined. Despite barely knowing how to skate she tried out for the hockey team and became the team's goalie. These days she keeps fit by playing tennis and golf. She's also gotten into playing Wii sports against her girls. As for other technological fads? "I haven't done Facebook, but I did start a Twitter account," she says. "I got on because the Bengals players are twittering people and I
wanted to get their tweets. But I'm not really sure about the whole thing."
With the addition of draft picks such as Alabama tackle Andre Smith and USC linebacker Rey Maualuga, the team is hoping for a better season this fall than last. There's also the addition of free agent Tank Johnson (another player with jail time in his past—but a lot of tackles, too) and the return of starting quarterback Carson Palmer, who was out for most of 2008 with an elbow injury. While the Bengals haven't made it to the playoffs since 2005, Blackburn is not writing off her team's chances of making it to the  2010  Super Bowl. "The great thing about sports is that everyone starts at zero and zero, so you get a fresh start every year," says Blackburn. "You just have to find a way to go out there and win."  
Jennifer Wulff is a freelance writer and frequent contributor to DAM.