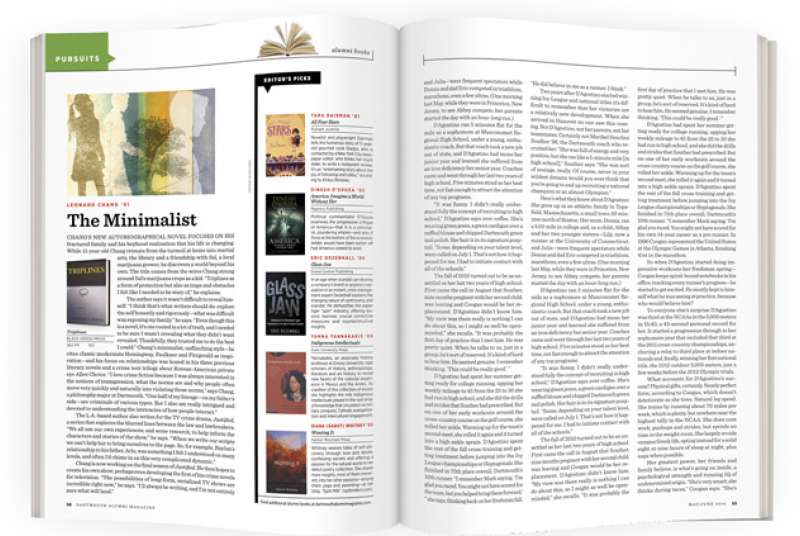 Alumni Books
New titles from Dartmouth writers (September-October 2014)
Leonard Chang '91
Triplines
Black Heron Press
Chang's new autobiographical novel focuses on his fractured family and his boyhood realization that his life is changing. While 11-year-old Chang retreats from the turmoil at home into martial arts, the library and a friendship with Sal, a local marijuana grower, he discovers a world beyond his own. The title comes from the wires Chang strung around Sal's marijuana crops as a kid. "Triplines as a form of protection but also as traps and obstacles I felt like I needed to be wary of," he explains.
The author says it wasn't difficult to reveal himself. "I think that's what writers should do: explore the self honestly and rigorously—what was difficult was exposing my family," he says. "Even though this is a novel, it's one rooted in a lot of truth, and I needed to be sure I wasn't revealing what they didn't want revealed. Thankfully, they trusted me to do the best I could." Chang's minimalist, unflinching style—he cites classic modernists Hemingway, Faulkner and Fitzgerald as inspiration—and his focus on relationships was honed in his three previous literary novels and a crime noir trilogy about Korean-American private eye Allen Choice. "I love crime fiction because I was always interested in the notions of transgression, what the norms are and why people often move very quickly and naturally into violating those norms," says Chang, a philosophy major at Dartmouth. "One half of my lineage—on my father's side—are criminals of various types. But I also am really intrigued and devoted to understanding the intricacies of how people interact."
The L.A.-based author also writes for the TV crime drama, Justified, a series that explores the blurred lines between the law and lawbreakers. "We all use our own experiences, and some research, to help inform the characters and stories of the show," he says. "When we write our scripts we can't help but to bring ourselves to the page. So, for example, Raylan's relationship to his father, Arlo, was something I felt I understood on many levels, and often I'd chime in on this very complicated dynamic."
Chang is now working on the final season of Justified. He then hopes to create his own show, perhaps even developing the first of his crime novels for television. "The possibilities of long-form, serialized TV shows are incredible right now," he says. "I'll always be writing, and I'm not entirely sure what will land."
Tara Dairman '01
All Four Stars
Putnam Juvenile
Novelist and playwright Dairman tells the humorous story of 11-year-old gourmet cook Gladys, who is contacted by a New York City newspaper editor, who thinks her much older, to write a restaurant review. It's an "entertaining story about the joy of following one's bliss," according to Kirkus Reviews.
Dinesh D'Souza '83
America: Imagine a World Without Her
Regnery Publishing
Political commentator D'Souza examines the progressive critique of America—that it is a colonialist, plundering empire—and asks if those at the bottom of the economic ladder would have been better off had America ceased to exist.
Eric Dezenhall '84
Glass Jaw
Grand Central Publishing
In an age when scandal can destroy a company's brand or anyone's reputation in an instant, crisis management expert Dezenhall explains the changing nature of controversy and scandal. He demystifies the paper tiger "spin" industry, offering lessons learned, crucial corrective measures and counterintuitive insights.
Yanna Yannakakis '89
Indigenous Intellectuals
Duke University Press
Yannakakis, an associate history professor at Emory University, taps scholars of history, anthropology, literature and art history to reveal new facets of the colonial experience in Mexico and the Andes. As coeditor of this collection of essays she highlights the role indigenous intellectuals played in the vast array of knowledge that circulated via military conquest, Catholic evangelization and intercultural engagement.
Diana (Sabot) Whitney '95
Wanting It
Harbor Mountain Press
Whitney weaves tales of self-discovery through love and desire, confessing secrets and offering a passion for the natural world in her debut poetry collection. She shares more insights, most of them irreverent, into her other passions—among them yoga and parenting—at her blog, "Spilt Milk" (spiltmilkvt.com).
Additional books that were not listed in our print version:
Robert Wagstaff '63 critically revisits the legal paradigm that guided the treatment of suspected terrorists under the administrations of President George W. Bush and British Prime Minister Tony Blair in Terror Detentions and the Rule of Law: US and UK Perspectives (Oxford University Press).
In a thriller novel based on a 1994 covert operation to transfer 650 kilograms of weapons-grade uranium from Kazakhstan to the United States, coauthors Doug Raber '64 and wife Linda follow a joint CIA-FBI team as it races to find a stock of uranium that has gone missing in The Sapphire Legacy (GreenPoint Ventures).
Mark Willen '69 follows a recovering alcoholic lawyer in a sleepy Vermont town who is forced to confront an ethical lapse from a decades-old murder trial in this debut novel, Hawke's Point (Pen-L Publishing).
Daniel Ernst '80, professor of law at Georgetown University, takes on myths about the emergence of America's bureaucracy, arguing that principles of individual rights and limited government guided its creation, in Tocqueville's Nightmare: The Administrative State Emerges in America, 1900-1940 (Oxford University Press).
Deborah Prum, Adv'82, pairs photography with poetry readings in a collaborative multimedia anthology, Back Talking on the Mountain of God, and presents an anecdotal history of Russia for young adults through words, images and sounds in Czars and Czarinas, both available exclusively as interactive iBooks on iTunes.
David Kopec '09 decodes Dart for beginners with no programming knowledge and demonstrates how the Google-developed language can be used to create web applications in Dart for Absolute Beginners (Apress).