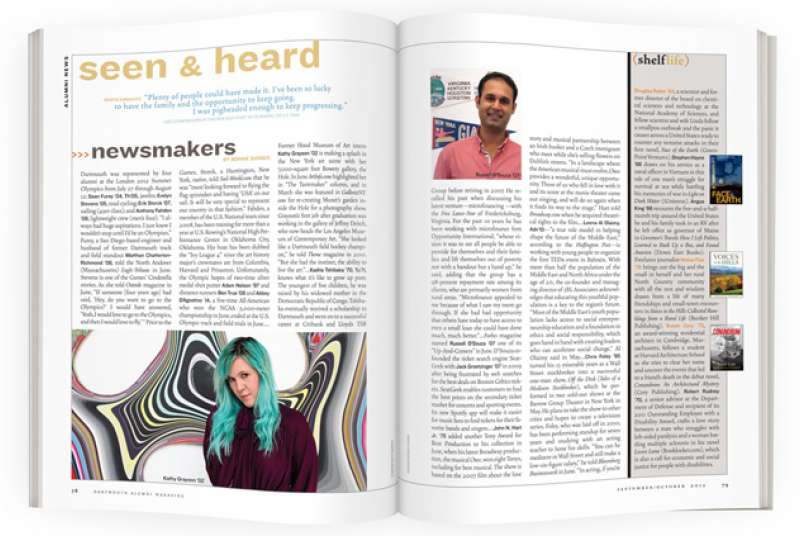 Newsmakers
Alumni making headlines around the world
Dartmouth was represented by four alumni at the London 2012 Summer Olympics from July 27 through August 12: Sean Furey '04, Th'05, javelin; Evelyn Stevens '05, road cycling; Erik Storck '07, sailing (49er class); and Anthony Fahden '08, lightweight crew (men's four). "I always had huge aspirations. I just knew I wouldn't stop until I'd be an Olympian," Furey, a San Diego-based engineer and husband of former Dartmouth track and field standout Matthan Chatterton-Richmond '06, told the North Andover (Massachusetts) Eagle-Tribune in June. Stevens is one of the Games' Cinderella stories. As she told Outside magazine in June, "If someone [four years ago] had said, 'Hey, do you want to go to the Olympics?' I would have answered, 'Yeah, I would love to go to the Olympics, and then I would love to fly.' " Prior to the Games, Storck, a Huntington, New York, native, told Sail-World.com that he was "most looking forward to flying the flag spinnaker and having 'USA' on our sail. It will be very special to represent our country in that fashion." Fahden, a member of the U.S. National team since 2008, has been training for more than a year at U.S. Rowing's National High Performance Center in Oklahoma City, Oklahoma. His boat has been dubbed the "Ivy League 4" since the art history major's crewmates are from Columbia, Harvard and Princeton. Unfortunately, the Olympic hopes of two-time silver medal shot putter Adam Nelson '97 and distance runners Ben True '08 and Abbey D'Agostino '14, a five-time All-American who won the NCAA 5,000-meter championship in June, ended at the U.S. Olympic track and field trials in June.
Former Hood Museum of Art intern Kathy Grayson '02 is making a splash in the New York art scene with her 7,000-square foot Bowery gallery, the Hole. In June ArtInfo.com highlighted her in "The Tastemaker" column, and in March she was featured in GalleristNY.com for re-creating Monet's garden inside the Hole for a photography show. Grayson's first job after graduation was working in the gallery of Jeffrey Deitch, who now heads the Los Angeles Museum of Contemporary Art. "She looked like a Dartmouth field hockey champion," he told Theme magazine in 2010. "But she had the instinct, the ability to live the art."
Kadita Tshibaka '70, Tu'71, knows what it's like to grow up poor. The youngest of five children, he was raised by his widowed mother in the Democratic Republic of Congo. Tshibaka eventually received a scholarship to Dartmouth and went on to a successful career at Citibank and Lloyds TSB Group before retiring in 2007. He recalled his past when discussing his latest venture—microfinancing—with the Free Lance-Star of Fredericksburg, Virginia. For the past 10 years he has been working with microfinance firm Opportunity International, "whose vision it was to see all people be able to provide for themselves and their families and lift themselves out of poverty not with a handout but a hand up," he said, adding that the group has a 98-percent repayment rate among its clients, who are primarily women from rural areas. "Microfinance appealed to me because of what I saw my mom go through. If she had had opportunity that others have today to have access to even a small loan she could have done much, much better."
Forbes magazine named Russell D'Souza '07 one of its "Up-And-Comers" in June. D'Souza co-founded the ticket search engine SeatGeek with Jack Groetzinger '07 in 2009 after being frustrated by web searches for the best deals on Boston Celtics tickets. SeatGeek enables customers to find the best prices on the secondary ticket market for concerts and sporting events. Its new Spotify app will make it easier for music fans to find tickets for their favorite bands and singers.
John N. Hart Jr. '75 added another Tony Award for Best Production to his collection in June, when his latest Broadway production, the musical Once, won eight Tonys, including for best musical. The show is based on the 2007 film about the love story and musical partnership between an Irish busker and a Czech immigrant who meet while she's selling flowers on Dublin's streets. "In a landscape where the American musical must evolve, Once provides a wonderful, unique opportunity. Those of us who fell in love with it and its score at the movie theater came out singing, and will do so again when it finds its way to the stage," Hart told Broadway.com when he acquired theatrical rights to the film.
Leena Al Olaimy, Adv'10—"a true role model in helping shape the future of the Middle East," according to the Huffington Post—is working with young people to organize the first TEDx event in Bahrain. With more than half the population of the Middle East and North Africa under the age of 20, the co-founder and managing director of 3BL Associates acknowledges that educating this youthful population is a key to the region's future. "Most of the Middle East's youth population lacks access to social entrepreneurship education and a foundation in ethics and social responsibility, which goes hand in hand with creating leaders who can accelerate social change," Al Olaimy said in May.
Chris Foley '95 turned his 13 miserable years as a Wall Street stockbroker into a successful one-man show, Off the Desk (Tales of a Mediocre Stockbroker), which he performed in two sold-out shows at the Barrow Group Theater in New York in May. He plans to take the show to other cities and hopes to create a television series. Foley, who was laid off in 2010, has been performing standup for seven years and studying with an acting teacher to hone his skills. "You can be mediocre in Wall Street and still make a low-six-figure salary," he told Bloomberg Businessweek in June. "In acting, if you're mediocre, it won't work. You have to be great."
Just three years after entering her first World Cup race, Nina Cook Silitch '94 made ski mountaineering history in Tromso, Norway, by becoming the first North American to win a World Cup event. "I did not even know what ski mountaineering skis were until 2001, when we moved to Chamonix," the former Dartmouth Nordic skier told SkinTrack.com after her big win in April. "I grew to love all that 'skimo' encompasses: the challenge of the climbs, the thrill of the descents, the technical aspects of the climbing. It combined endurance, skill, power and the beauty of mountains."
Nathan Sigworth '07 has been named to Inc. magazine's "30 Under 30" list of the country's most impressive young entrepreneurs. CEO Sigworth and Taylor Thompson '08 co-founded PharmaSecure—with headquarters in Lebanon, New Hampshire, and Gurgaon, India—to help combat counterfeit medication in the developing world. PharmaSecure partners with pharmaceutical companies throughout India to imprint drug bottles with serial numbers that consumers can text to a phone number to verify the medication is authentic. "We can help companies optimize their sales by understanding consumer behavior, while at the same time addressing major public health issues," said Sigworth, who started researching the counterfeit market in 2005, after he spent a summer volunteering at a hospital in Uttar Pradesh, India.
Christina Ritter '99 has been earning raves as joint artistic director and actor with the For/Word Company, a Columbus, Ohio-based theater company that uses historical records, such as letters, essays and books, to flesh out the real people featured in its productions. The company has been invited to perform two of its original plays—North, about writer Anne Morrow Lindbergh, the wife of aviator Charles, and Little Book, about writer E.B. White and his wife, Katherine—off-Broadway in October. Ritter's "rich, detailed and grounded performance provides the momentum that the quiet little play requires as it builds to a truly unexpected denouement," according to Seattlest.com. Her latest role: raising the $30,000 needed to bring the productions to N.Y.C.
While he was playing for the NHL's Winnipeg Jets, Tanner Glass '07 participated in an anti-homophobia ad campaign called "You Can Play," which premiered on U.S. television in March. Glass told slam.canoe.ca in June that helping gay athletes become comfortable with coming out is something he became committed to while at Dartmouth, due to the influence of All-American lacrosse player Andrew Goldstein '05, who came out to his teammates after the 2003 season. "That just brought it to the forefront of my experience," said Glass, who signed a $2.2-million contract with the Pittsburgh Penguins in July and is married to former Big Green soccer player Emily Tracy '07. "No one should be afraid to come out and be themselves and be accepted in sports."
Considering that he had undergraduate internships with Good Morning America and the Fox News Channel and served as news director and anchor at Dartmouth's WDCR/WFRD radio, it's not surprising that Todd Piro '00 left a law career for one in television news. After departing the Los Angeles office of Hughes Hubbard and Reed, Piro worked for four years as a morning anchor at the CBS affiliate in Palm Springs, California. In May the New Jersey native became a reporter and fill-in anchor with the NBC affiliate in Hartford, Connecticut. He told the Connecticut Law Tribune that his courtroom skills—especially an ability to boil down a complicated story into concise sound bites—are helpful in television. "You have much more time and space [in a legal brief]," he said. "In television you have a minute and 30 seconds and you have to keep it simple."
"I went out for football and couldn't understand the line coach," Jerome Evans '54 told the Tahoe (California) Daily Tribune in April. So he switched to crew—and is still rowing at 79, competing around the country in U.S. Rowing Masters events. A private dealer of Native American art, Evans will travel to several competitions this year. "I'll be in the 80- to 84-year-old bracket," he said. "I'm probably the only one. I'll continue to row as long as I can carry a scull down to the beach."
Gaming brought some alumni back to Hanover in May. "Dartmouth at Play:  Alumni on the Future of Gaming," a panel discussion sponsored by the College's digital humanities program and Tiltfactor Lab, drew David Roberts '83, senior vice president of PopCap Games Inc., creator of the popular Bejeweled and Plants vs. Zombies games, Michelle Favaloro '02, a senior brand manager with Hasbro, Oge Young '96, an independent developer who most recently worked with Sony Online Entertainment, Tracy Hurley '01, a freelance writer who has written for game publisher Wizards of the Coast, Sam Beattie '07, game designer at Zynga, creators of Facebook games FarmVille and CastleVille, and Justin Gary '02, creator of the Ascension board game and founder of Gary Games and Gamer Entertainment. "It's great to be able to come back and see there's a program that's flourishing here and interact with students now that have the same passion for gaming that I had," Gary, who paid part of his tuition with winnings from the card game Magic: The Gathering, told The Dartmouth.