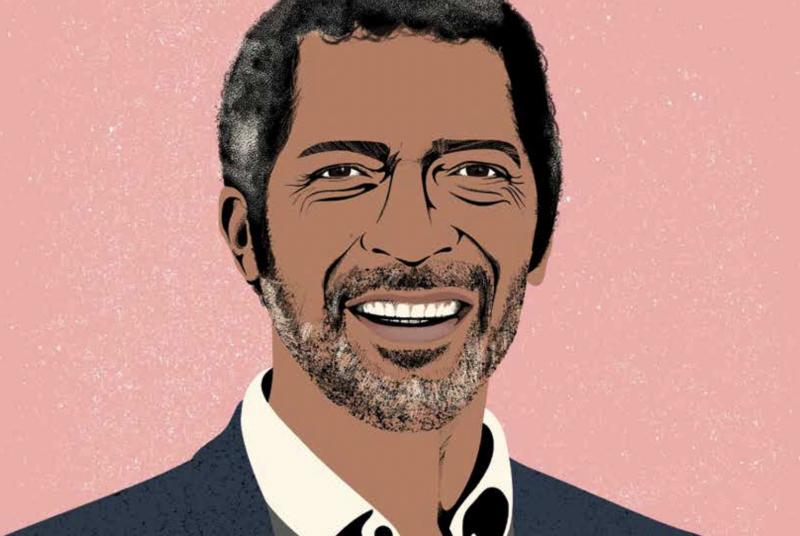 Matthew Delmont
"I had no idea I would become a professor."
Matthew Delmont did not love history in high school. Memorizing dates and names bored him. He had uncertain career ambitions, considered the military, and never envisioned himself as a history professor. 
After majoring in social studies at Harvard, he spent a few years in consulting and marketing jobs before pursuing a fellowship to earn a Ph.D. at Brown. "It was just a lucky turn of events that led me to apply to a teaching program," he says. As he worked on his master's and doctorate in American studies, Delmont, now 45, discovered a passion for digging into primary archival sources. History came alive. "The joy of history is not memorizing dates and names and facts but the discovery of the messiness of history," Delmont says. "That's what's so much fun about being a historian. You have a chance to put together these puzzle pieces to help understand why things unfold the way they do." His research led to a dissertation that probed the struggle for civil rights in 1950s Philadelphia and centered on the popular American Bandstand TV show's discrimination against Black kids in its early days.
For his award-winning 2022 book, Half American: The Epic Story of African Americans Fighting World War II at Home and Abroad (Viking), Delmont pieced together the largely untold story of the more than 1 million Black Americans who served in the war. These stories of average people as well as iconic, heroic figures show how World War II looked from a Black perspective. For Black Americans, it was as much a fight against racial discrimination at home as against fascism abroad. Military units, latrines, transports, and even blood donations were segregated. "Beyond being morally repugnant, when you stop and think about how wasteful and inefficient that was, the military was a less effective fighting force because of segregation," Delmont says. Black servicemembers endured abuses—even lynching—during training, and they were greeted with severe hostility once back home.
"To see how terrible the military was at a time when people were trying to offer their lives for the country reveals just how deep these problems ran and still run in our society," says Benjamin Valentino, a professor of government and coordinator of the College's war and peace studies program. "If you don't understand how extreme things were not that long ago, I don't see how you can understand where we are today as a society." 
In Half American, Delmont makes a case that the United States could not have won the war without the contributions of Black troops. Reviewers praised the book as "an eloquent and essential corrective to the historical record" and the author as "an energetic storyteller."
A Guggenheim fellow and winner of a National Endowment for the Humanities Public Scholar Award, Delmont joined Dartmouth's faculty in 2019 to teach U.S. history, African American history, and the history of civil rights. The following year President Phil Hanlon '77 tapped him as a temporary special advisor on recruiting and retaining faculty of color while the administration sought to fill its new senior diversity officer position, which it did in July 2021 with the hiring of Shontay Delalue.
Now the associate dean of international and interdisciplinary studies, Delmont oversees 13 programs and departments. ("I do miss teaching," he admits.) He and faculty chairs make decisions regarding faculty recruitment, promotions, and tenure. He also has a hand in developing strategies to help the College achieve its faculty diversity goals. "He's got the mindset for problem-solving that you need in administration, and he's also got the demeanor," says Elizabeth Smith, dean of the faculty. "He's super tenacious. I don't know whether he ever sees problems as intractable." 
Delmont grew up in Minnesota, where he attended St. Thomas Academy, a private military school with a junior ROTC program. He wore a uniform to school and was offered several ROTC scholarships before accepting one from Harvard. He met his future wife of 16 years, Jacqueline Wernimont, in grad school. Both taught at Arizona State University before coming to Hanover. She is chair of the digital humanities academic cluster and an associate professor of film and media studies. They have two children, Xavier, 11, and Simone, 9.
While Delmont taught at ASU, he and his students combed through 20th-century Black newspapers to gain historical insights into the Black Lives Matter movement. That grew into his "this day in history" posts, which were published in 2019 as a digital book, Black Quotidian: Everyday History in African American Newspapers (Stanford University Press). Half American grew out of that. "I kept coming across all these articles from World War II, little photos and stories about the average men and women who volunteered or were drafted," Delmont says. "I thought, there's a lot more story here than I thought. It really made me curious."
In the classroom the prof strives to teach skills useful in any profession. "It's important to understand the past, how you work with evidence, how you use it to make an argument," he says. "That's what I want students to come away with—really good research skills they can use no matter what they do after graduation."
Next up for Delmont: A book about the prominent role Black Americans played during the Vietnam War, both in the military and in the antiwar movement. He's already digging into the archives.