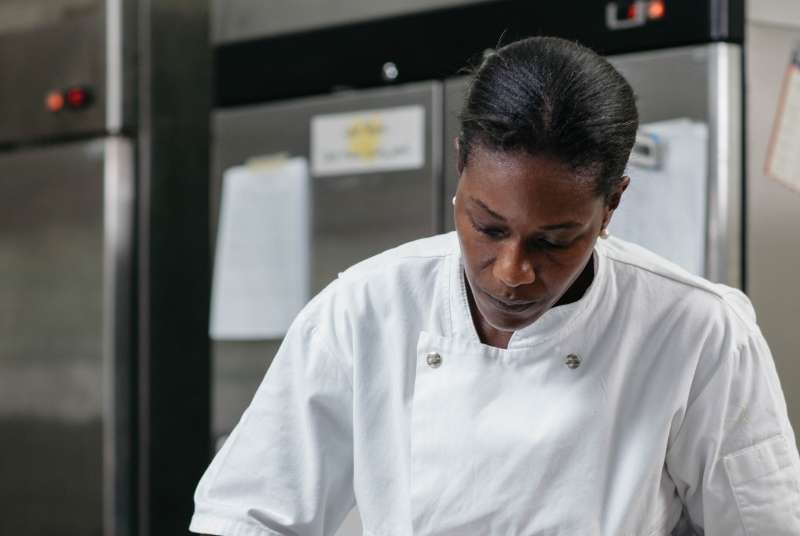 Photo courtesy Selassie Atadika
Culinary Ambassador
Chef Selassie Atadika '98 gathers inspiration from her travels around the world for the United Nations.
In 1982 Atadika and her family left Ghana following a military coup, eventually settling in Westchester County, New York. But her parents made sure she and her siblings stayed connected to their homeland—mainly through food. "I'd always joke that my mother would take off only two days from cooking a year: Mother's Day and her birthday," says Atadika, recalling how her mom would learn ways to make traditional Ghanaian dishes even if she couldn't find the exact ingredients. "That was a big part of our family life, coming together at the table."
Now Atadika has become an ambassador for African cuisine as the chef for Midunu, a company she launched after moving back to Ghana in 2014. The name means "let us eat" in the Ewe language, and it's a phrase that Atadika remembers her father saying often as she grew up. In addition to catering private parties and corporate events, Midunu throws monthly "nomadic dinners" at different locations around the capital Accra, where guests sit at communal tables and enjoy a five-course meal. The dinners—which have earned praise in publications such as Vogue and Ebony—allow foodies to sample an always-changing menu while meeting new people and discovering new places. "You can never have the same dinner twice," she says. "Even if the meal was the same, the unknown is the company that comes."
Another goal is to highlight fare from all over the continent—whether Atadika is reinventing an old Ghanaian favorite such as waakye (a spicy stew with rice and beans) or creating fresh recipes that give a nod to the flavors of countries such as Ethiopia (avocado panna cotta topped with honey, papaya and basil). She makes a point, too, of incorporating classic ingredients that fewer people are using these days, such as sorghum, cassava leaves and even locally grown brown rice, which Atadika says more Ghanaians are swapping for imported white rice these days. She also hosts a television show called Ghana Veg Food Diaries, a series that promotes local produce and farmers. "Beyond celebrating Africa's culinary heritage, I want to look at preserving Africa's culinary heritage," she says. "With globalization and urbanization, a lot of things are getting lost."
Despite her early orientation, Atadika's path wasn't always straightforward. At Dartmouth she was a premed major before switching to geography in her junior year. After graduation she worked as a civilian in U.N. peacekeeping missions in Kosovo and Angola before shifting to UNICEF to work on humanitarian projects throughout Africa. Wherever Atadika was in the world, she would always seek out neighborhood restaurants and chat with the cooks. "I would explore the local cuisine and then try to figure out how those ingredients could be played around with," she says.
Eventually Atadika started a cooking club, and in 2011 she and two friends took leaves of absence from their jobs to spend six weeks studying at New York's Culinary Institute of America. Returning to Africa and again working full-time, the trio decided to open a pop-up restaurant in Dakar, Senegal, serving gourmet food once a month at various spots in the city. Success with that venture inspired Atadika to change careers and start her own business in Ghana. "It was part of my dream to come back and live here, and then I had a new strength and confidence in my cooking," she says. "It was kind of the perfect storm."