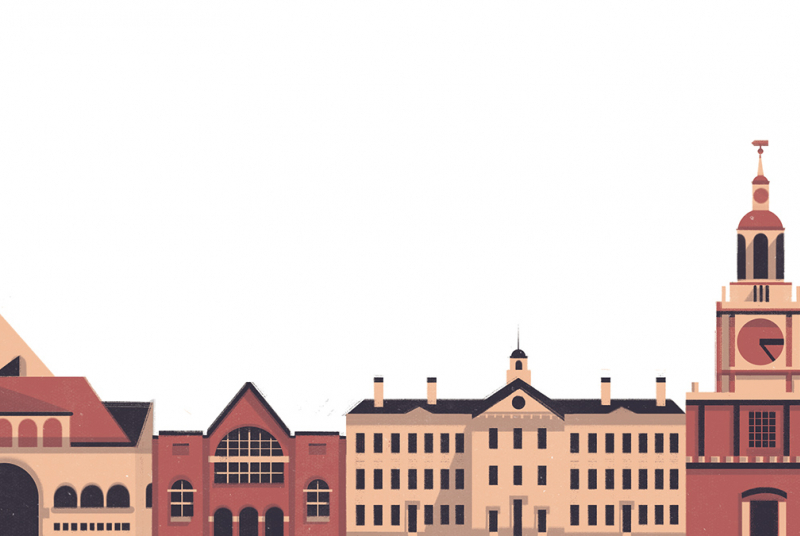 Campus Confidential
The Putin Effect
The 2022 summer Russia foreign study program is a casualty of the war in Ukraine. It was scheduled to take place in Moscow.
A legend departs
Former music professor and electronic music pioneer Jon Appleton died in January. He was 83.
Wordsmith
Music prof César Alvarez won the $100,000 Kleban Prize for Musical Theatre for most promising lyricist in American musical theater. The award is named after Edward Kleban, who wrote the lyrics for A Chorus Line.
Back on the Green
For the first time since 2019, Commencement will take place at its regular venue June 12.
Crashing the ice ceiling
Nina Rodgers, an assistant coach for the women's ice hockey team who was hired last year, is believed to be the first Black woman to coach in NCAA Division I hockey.
Bare Truth
The annual student snowball fight, on January 7, included several undergraduate streakers.
RUH ROH
"The Fed is way, way, way behind the curve," econ prof and former Federal Reserve advisor Andrew Levin says of the March rate hike.
Reality TV
Gus Guszkowski '22 represented the College in the Jeopardy! National College Championship televised in February but didn't make it past the quarterfinals.
Tragedy Averted
After a young deer fell through the ice at Occom Pond the morning of March 25, the Hanover Fire Department made a dramatic rescue. 
Grand Openings
In May, a West End Festival will celebrate the new West End District and its Engineering and Computer Science Center, the Arthur L. Irving Institute for Energy and Society, and the Magnuson Center for Entrepreneurship.
Rally for the Blue and Yellow
Dozens of people gathered on the Green for several vigils to support Ukraine during the Russian invasion.
Moving Up
Hockey goalie Clay Stevenson '24 signed a two-year, entry-level contract with the Washington Capitals.
I Scream!
A new ice cream shop will open next to the Nugget Theater this spring. 
Net Wonders
The men's hoops team suffered its worst loss in 55 years—losing to Princeton by 45 points—before winning back-to-back blowouts against Cornell and Columbia.
Long Goodbye
Geeta Anand '89, dean and professor at Berkeley Journalism, will serve as keynote speaker for the class of 2020 Commencement set for August 6 on campus.
Facing the Future
Masking requirements expired on campus March 16.
Workers unite
Student dining workers have voted to form a union.  
Special Guest
Former U.S. Department of Health and Human Services Secretary Alex Azar '88 gave an informative talk on the lessons of Operation Warp Speed during winter term.